5 Reasons Why Facility Directors Choose HEPACART® Products
by HEPACART on Oct 14, 2020
HEPACART® products minimize waste, increase productivity, and protect people.
Facilities managers face a variety of challenges that call for a calm disposition, management ability, business judgment, an understanding of science, and an ability to see the big picture. Throw in contagious pathogens and tight budgets, and you have a compelling reason to look for better long-term solutions to recurring problems.
You also have ample incentive to find ways to minimize waste, increase productivity, and successfully protect the health of staff, visitors, and — if you're in healthcare — patients. So, let's take a look at five ways in which HEPACART's products have addressed these needs for thousands of facility managers and healthcare contractors over the last decade and a half.
1. Productivity
In every facility there is a need to access utilities in the ceiling for tasks like these, and many more, including:
Cable and wire installation
Low-voltage installation
Light maintenance
Ceiling tile replacement
HVAC projects
Plumbing installation
In fact, the invention of our flagship product was born of absolute necessity. Lead Engineer Jeff Pirner briefly recounts the story, part of which is transcribed here.
"HEPACART got started at our sister company, TED Systems, when we had a job to do at a local hospital, testing fire alarm devices. Roughly 350 devices above the ceiling and the area had to be contained. So we started with zip holes and plastic and a blower, set the whole thing up, put your ladder inside, take a tile out, do your test, move to the next point.
One of the specific problems with this job was that the devices' locations weren't 100% marked on the prints. So you would set up, open a tile, look above the ceiling, and the device wasn't there; it was 20 feet away. And so you had to tear back down and move it, and the whole teardown between move to move to move and re-setup was 45 minutes every time. We were going to be there for the rest of our lives trying to do the test."
In summary, HEPACART spent four years in product development and made its first shipments in April of 2007, and the HEPACART dust containment cart was born.
Since HEPACART containment carts greatly enhance productivity by taking less than two minutes to set up or take down, contractors and facilities directors took to HEPACART like French ducks to Perrier water. The success that followed prompted the company founder Herb Farnsworth and his son Mark Farnsworth to expand into other products.
First, they defined the company's mission as developing solutions to protect patients from dust and pathogens. Soon they broadened it to helping healthcare contractors and facilities managers with infection-prevention measures that can also save time and money.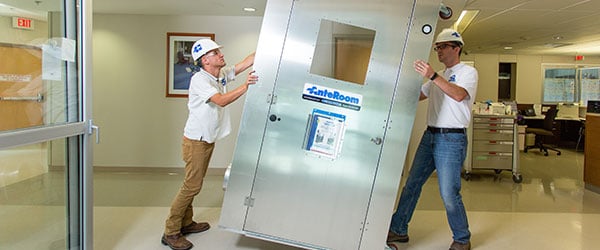 Dust containment carts can prevent ceiling tiles from dumping nasty particles into the air, but what about when an entire room is being renovated or needs to be isolated due to infectious disease as recommended by the CDC? Something larger was needed, and the answer was the AnteRoom temporary room isolation module, portable and constructed of durable aluminum just like our dust containment carts.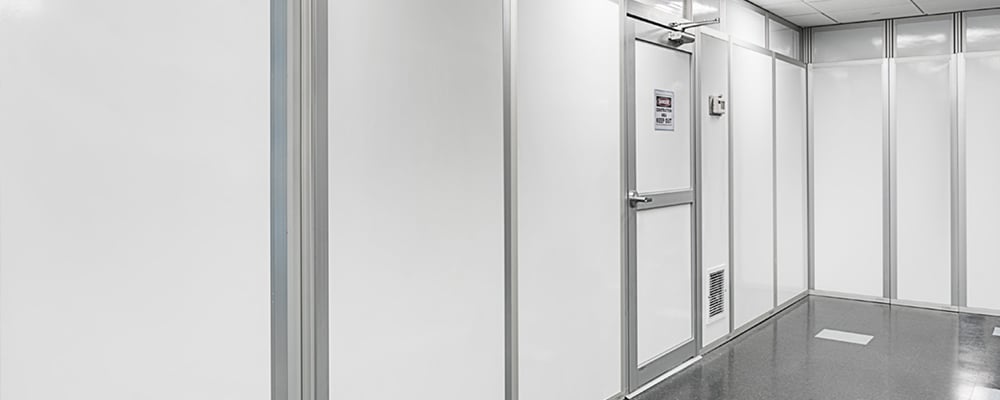 If you're adding a wing, you have to think even bigger: mobile containment walls. HEPACART's solution, STARC Systems Realwall barriers and the STARC LiteBarrier, install quickly and produce zero waste when removed, just like our dust containment carts and AnteRooms.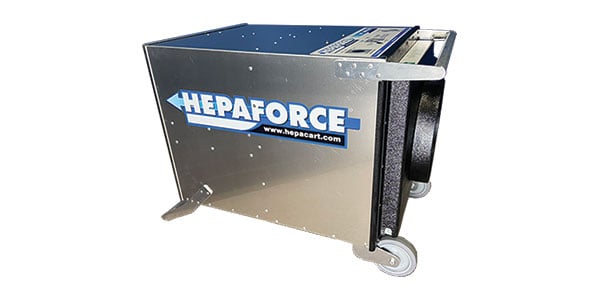 To manage ventilation and filtration, HEPAFORCE Negative Air Machines attach to all the above products via standard 12-inch ducts.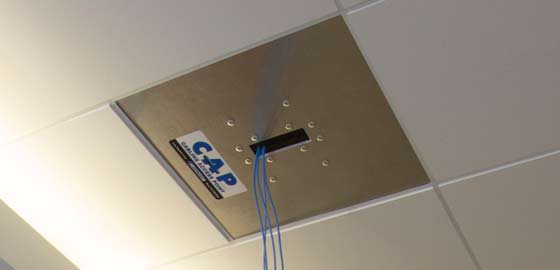 Two smaller products joined the lineup when electricians using our dust containment carts saw how useful they would be: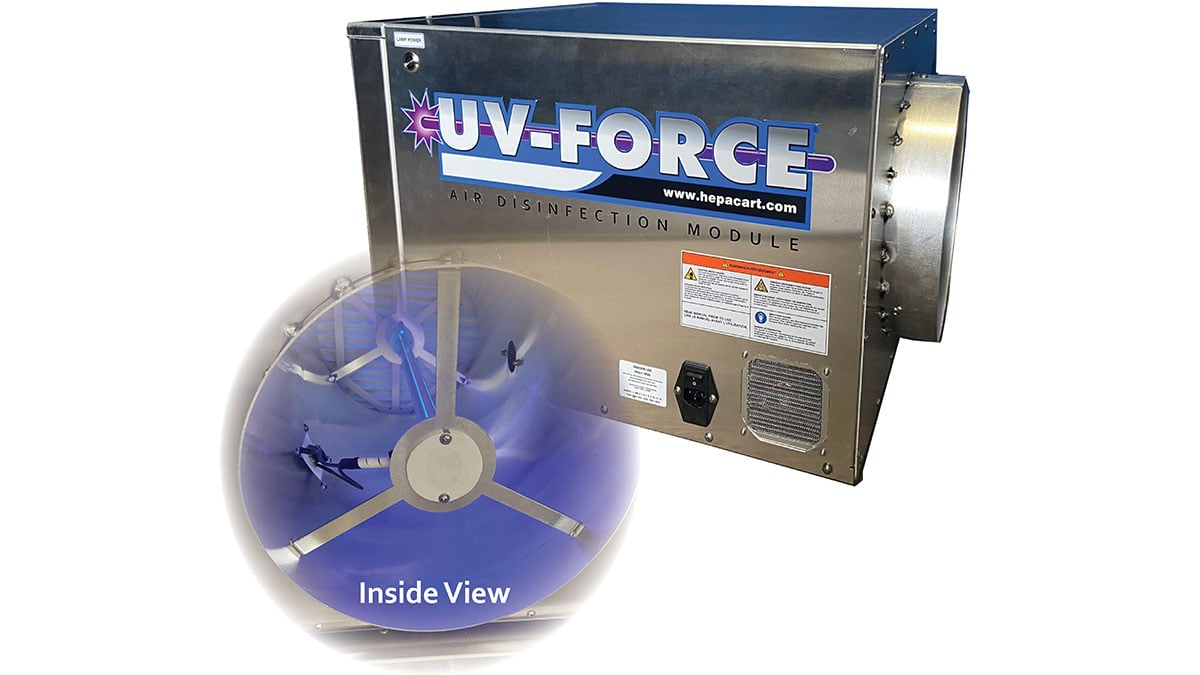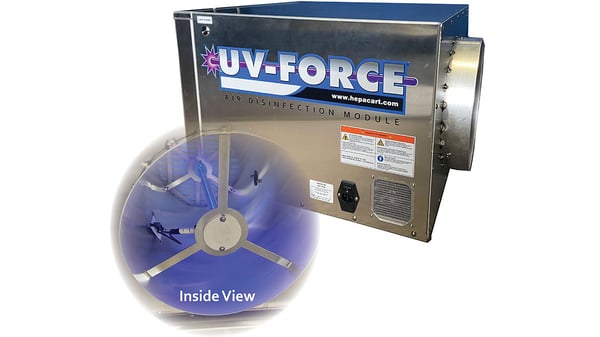 Finally, it was evident that HEPACART's expanded mission necessitated the development of pathogen-fighting products that went beyond HEPA filtration, leading to the HEPACART UV-FORCE Air Disinfection Module and the Germbuster 5000 mobile room disinfection unit. Both employ Far-UV light for pathogen cell destruction, a technology that perfectly complements HEPA filtration.
2. Durability
The first HEPACART ceiling access carts we built for third-party use were sold to Shawnee Mission Medical Center, and they're still going strong today. To get a sense of the longevity for which they were designed, read this transcript excerpt from the video mentioned earlier with HEPACART lead engineer Jeff Pirner:
"We started off with a 2'x4' channel frame... with half-inch caster plates and 900-pound swiveling casters on each end [and] a unibody construction aluminum frame... we have four poles on each corner so you can articulate... any kind of a ramp slope, and then we have a flame-retardant bellows that raises up to the [ceiling]. There's a foam seal around the top, spring-loaded, so when you push it up against the ceiling, it gives the cart some extra support up there, but it does not damage the ceiling."
All HEPACART products are similarly designed for extra long life, from dust containment carts to anterooms, mobile containment walls, negative pressure machines, and Far-UV germicidal irradiation equipment.
3. Sustainability
HEPACART's rugged aluminum unibody construction promotes sustainability. Lightweight, strong, and highly recyclable, aluminum products lower energy costs and carbon emissions. Also, by alleviating the need to construct temporary enclosures, HEPACART products reduce the amount of plastic, wood, and drywall that ends up in landfills due to renovation projects. This squares nicely with LEED protocols about eliminating non-disposable waste.
4. Flexibility
Every project is different in healthcare construction and renovation. In response to that fact, HEPACART offers over 50 options for adapting to various scenarios. The best news is most HEPACART options fit our products already in the field. And if you don't see something you need, ask us for it.
5. Safety
When HEPACART builds any product equipped with HEPA filtration, it is individually tested and certified for air quality and airflow, so that you'll know it's ready to use upon delivery.
The HEPACART dust containment cart is a stable platform for all kinds of work when casters are locked and extended to the ceiling. It's spacious, with some models able to accommodate ladders up to 10 feet long. Well-ventilated, brightly lit by interior LEDs, and fully grounded when plugged into an outlet, the cart provides a safe place for tools, parts, and workers, while keeping those outside safe from dust and debris.
Conclusion
In healthcare facilities around the world, the U.S., and Canada, as well as in data centers, bioscience, semiconductor manufacturing, food safety, semiconductor manufacturing, food safety, pharmaceutical labs, and more, the wisdom of buying durable, reusable HEPACART equipment has been proven many times over.
Good facilities management means keeping people safe and healthy, reducing waste, lowering costs, and improving efficiency. We can help you get there, not just with products, but with advice and information. If you'd like to know more about infection control and how a director of facilities can see the big picture, refer to our Infection Control for Facilities Managers Guide.
Resources