Germbuster 5000
The HEPACART® Germbuster 5000 with UV-FORCE technology provides continuous air disinfection in patient rooms, consultation rooms, waiting rooms, and anywhere else where the infected are a risk to the healthy.
One Germbuster 5000 will disinfect the air in a room of 2000 cubic feet, 9 times per hour, thus dramatically reducing the viral load in the air to non-infectious levels.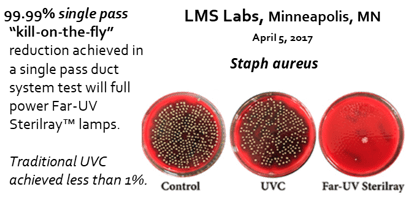 FAR-UV UV-FORCE CAUSES THE PHYSICAL DESTRUCTION OF BACTERIA, VIRUSES & SPORES. Far-UV is able to break bonds in these pathogens because its photon energy is greater than the energy of the bond holding the elements of a molecule together.
Consequently, bacteria, viruses and spores that are exposed to the UV-FORCE light will have critical parts destroyed and cannot remain infectious. This is in contrast to traditional UV-C which changes the chemical bond so it does not replicate .