How to Maintain Clean Air During Healthcare Construction
by HEPACART on Apr 07, 2021
If you're in hospital facility management, you know that clean air is critical to patient health and recovery.
About 2 million patients suffer healthcare-associated infections annually in the USA — these infections are caused by airborne pathogens and particulates (dust, mold spores, etc.). Providing clean air for patients is a moral obligation and a business necessity since hospitals are not reimbursed by insurance or Medicare for HAIs. In the USA alone, direct costs of HAIs are estimated to be between $28 billion and $45 billion annually.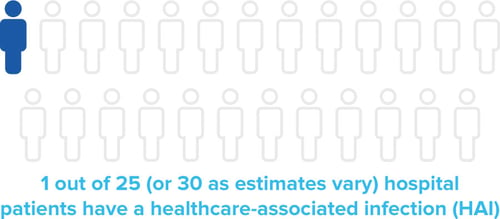 Because hospital construction generates demolition debris, facility management must take special care to manage dust. These dust control measures must take place alongside — or, in some cases, instead of — carefully-designed airflow and filtration being provided by an HVAC system. While a good HVAC system keeps contagion from spreading between patient isolation rooms, operating rooms, and waiting areas, more must be done to keep the air clean in your hospital during construction. We'll review a few key areas, along with air purification systems that do what HVAC alone cannot.


1. Assess risk.
Planning how to mitigate risk from construction dust is part of an overall infection control risk assessment (ICRA) process. This is a multidisciplinary, documented process that should be an integral part of facility planning, design, construction, and maintenance from the very beginning. As soon as major construction is anything riper than a twinkle in the CEO's eye, somebody had better get cracking with infection control plans.
In the design phase, the infection control risk assessment team must consider:
Number and location of patient isolation rooms.
Air handling and ventilation needs in ORs, infection isolation rooms, and labs.
Water systems to limit Legionella sp. and other waterborne opportunistic pathogens.
Finishes and surfaces.
To make the construction phase go smoothly, the team should assess the following:
Impact of disrupting essential services, including power
Location of patients by susceptibility to infection
Movement of debris, traffic flow, and cleanup
Location of known hazards
In addition, your team should make recommendations for:
Patient placement and relocation
Barriers, anterooms, negative pressure machines, air purification equipment
Temporary modification of heating, ventilating, air conditioning, and water supply systems
Protecting patients and staff during demolition activities
Training hospital staff, visitors, and construction personnel
Once construction is underway, the ICRA team should ensure continuous monitoring of the effectiveness of infection control measures, whether by in-house staff or independent consultants.
2. Upgrade HVAC.
The role of HVAC systems as a non-pharmacological strategy in preventing HAIs is to maintain optimal air quality by controlling:
| | |
| --- | --- |
| | Temperature (heating, cooling) |
| | Water content (humidifying, dehumidifying) |
| | Pathogens (filtering out or irradiating dust particles, bacteria, viruses, fungi) |
| | Ventilation (mixing in outdoor air) |
| | Distribution (flow patterns, moving air from "clean" to "less clean") |
Older HVAC systems should be reassessed by experts regularly and may be candidates for upgraded filters, ultraviolet germicidal irradiation (UVGI) equipment, or flow pattern revisions.

One factor that's often ignored is the role of maintaining humidity between 40 and 60% in reducing infection. You can read more about how important humidity control is in our post, Pair HVAC & Humidification to Keep Air Clean In Healthcare Facilities During Winter.
Within the construction zone, HVAC should be removed or isolated to prevent contamination of the ductwork. A very high level of air filtration is then provided by HEPA-filtered negative air machines, which are used to create differential air pressure that keeps dust inside the work area. HVAC is returned to service only after a thorough post-construction cleaning.


3. Choose the best tools.
The ICRA Matrix generates four classes of precautions by crossing patient risk groups with progressively greater construction activity. Class I is the least worrisome for healthcare construction and facility managers (painting, trimming, sanding in office areas), while class IV is the most (major demolition and new construction near the highest-risk patients).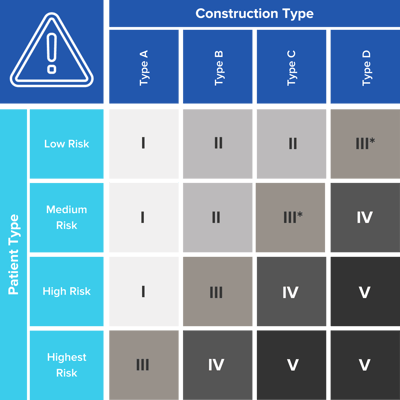 Subject to available funds, you should try to select equipment that can handle a broad spectrum of projects. This will actually make the most of a tight budget in the long run. An investment in a sturdy, reusable dust containment cart, for example, provides the same time and labor-saving benefits whether the cart is used to remove a ceiling tile in an ICU (Class IV) or an office (Class I).
Such tools should be simple to use, easy to clean, made of durable aluminum, and designed to be portable for quick setup and teardown. These recommendations apply to negative air machines, dust containment carts, air purifiers, anterooms, portable containment walls, and smaller equipment.



4. Train staff and qualify vendors.
In-house infection control personnel must be trained in such things as:
When to use containment tools
How to clean tools properly
When to call for maintenance (such as filter changes)
How to read pressure and airflow monitors (to track air changes per hour)


Education is a continuous need, so be sure that employees get ongoing training on operating and maintaining the systems they use. Track how well they're doing, rather than assuming the training is 100% effective. And get free help where it's available. Sometimes the manufacturer of the equipment can be called upon to come in and provide training, updates, and pointers.


In addition, make sure your contractors have conducted sufficient training of their workers. Emphasize the importance of patient safety and dust containment from day one. Every construction worker must fully grasp the concept that any dust is potentially hazardous and possibly deadly to hospital patients.
Conclusion
Finding and deploying the right dust containment and air purification equipment is a critical part of the success of any hospital construction project. Make sure you have the right tools at your disposal for use during any ICRA I-IV project. To learn more, read 3 Medical-Grade Air Purification Machines for Hospitals & Healthcare Facilities.
Resources