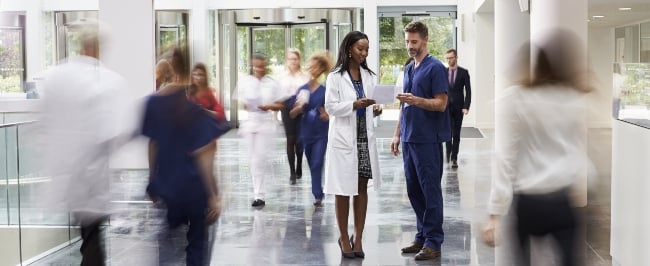 Dust containment units are versatile and powerful tools, and with several options and variations available, some are better suited than others to specific applications. But when you're considering a dust containment unit for your facility or business, what are the factors you need to consider in order to make the best decision?
Type of Dust Containment Unit
Mobile Containment Units
As the name implies, mobile dust containment units are easy to move and position for the isolation of small work areas. The most common type of mobile dust containment unit is the ceiling access cart, which is usually large enough for one to two workers to access ceiling tiles, ducting, and wiring in high-risk environments.
This type of unit is frequently utilized in high-risk environments in which maintenance involving ceiling access occurs frequently, where dust created from construction and maintenance has significant consequences, or both. In addition, construction companies who work in healthcare spaces or around sensitive electronic equipment may have their own mobile dust containment unit to ensure the cleanliness of the surrounding areas.
Stationary Containment Units
Stationary dust containment units are designed for longer-term dust containment than mobile units, though some can also be used for short-term projects and applications. Anteroom enclosures, for example, can be used to isolate entire rooms, hallways, and wings for renovation, maintenance, or infection control purposes.
Features
There are several features to be aware of when choosing the right dust containment unit for the job.
Integrated Negative Air Machine & Filtration. Does the unit have a stock or optional embedded negative air machine? An included air pressure and filtration system adds additional protection both within the isolated area and for the surrounding environment.

Security Features. When construction or maintenance needs to take place in an active work environment, door locks and windows for visibility make it easy for workers to secure the work area.

Worker Safety. Dust containment units should keep not only the surrounding environment safe, but also the workers using them. Safety features may include everything from structural stability to proper lighting.
ROI & TCO
When you look at the cost of a dust containment unit as compared to disposable solutions, it can be difficult to get past the price tag. Like all machinery purchases, or indeed any business investment, it's important to look at not only the cost, but also the return on investment and total cost of ownership of a new dust containment unit.
Return on investment (ROI) refers to how much you save (or lose, in the case of negative ROI) due to your purchase. Its basic calculation is Gain on Investment minus Cost, divided by Cost. Some things to factor into your ROI calculation are:
The money saved on not needing to buy disposable barrier material

The business gained from increased efficiency and trust

The time saved in putting up and taking down temporary barriers
Total cost of ownership (TCO) refers to the sum of all direct and indirect costs incurred due to a product or system. Generally, the lower the TCO as compared to an existing solution, the more viable the investment. Some factors in the TCO of a dust containment unit are:
Initial cost

Replacement filters

Upkeep

Sanitization

Transportation costs

Upgrade options
The TCO compared to the lifecycle of the unit will help you weigh the viability of the solution for your applications.
Appearance
Though it may seem superficial in the face of the time, money, and even life-saving potential of a dust containment unit, a unit's appearance can play a large role in how safe a work environment seems to outside observers. Disposable or dirty enclosures in a patient care space, for instance, may reflect poorly on the workers or the facility itself, and cause observers to lose trust in the quality of work and care provided.
For construction and maintenance companies, a professional-looking dust containment unit can also help foster trust with clients. By showing that you take dust containment seriously, your reputation as a trusted and professional team will grow.
Ease of Use
Finally, a dust containment unit may have the basic functions to get the job done, but what extra features can it provide to ensure the job gets done quickly and well? Depending on your needs, look for a unit that has:
Compartment for walk-off mats

Enough space for one or two workers to maneuver

Adequate lighting

Power outlets for tools

Ceiling, upper wall, and lower wall access

Sealing mechanism for doors and ceilings
Purchasing and using a dust containment unit during construction and everyday maintenance helps to ensure safety in high-risk environments, but without understanding all of the options available, it's impossible to know if you're getting the best value for your needs. By taking all of these factors into account, you'll be better equipped to choose a dust containment unit that fits seamlessly into your operations.