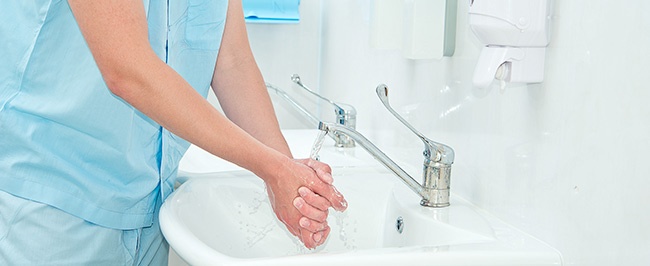 Unsurprisingly, patient care is an essential area of focus for infection control practices. When clinicians and staff interact with patients, visitors, and each other, they must always be aware of the possibility of transferring potentially infectious pathogens.
Hand Hygiene
Regular hand washing is certainly not the most glamorous or thrilling part of working in healthcare, but it is among the most effective healthcare infection control best practices. Hand washing is one of the best ways to prevent HAIs, as well as create a safer, cleaner healthcare environment. Washing your hands is such a commonplace act that it can often feel insignificant, making it easy to overlook the importance of hand washing in infection control.
While understanding the efficacy of different hand cleaning methods (e.g alcohol-based solutions vs. soap and water) is important, the most important factor is that healthcare workers should clean their hands whenever necessary. Because of this, most hospitals will want to have both dedicated hand washing and hand disinfection facilities easily available so that workers (as well as patients and visitors) can easily access them and practice good hand hygiene.
Further Reading: CDC Guideline for Hand Hygiene in Health-Care Settings
Personal Protective Equipment
While the reduction of HAIs is the goal of infection control, that does not mean that it is only necessary to prevent infection transmission from health care workers to patients. Rather, because health care workers move frequently between patients, it is essential that they protect themselves from potential sources of infection so that they do not transmit those infections to another patient (and so that they themselves do not become ill.) As such, personal protective equipment (PPE) is another one of the essential healthcare hygiene best practices.
Some common forms of PPE are:
Ensure that staff are aware of the proper protocols for disposing of single-use PPE, as well as making disposal convenient so it isn't overlooked.
It is also important to note that certain infectious diseases, such as HIV and Ebola, have specific recommended precautions when it comes to PPE, as well as other infection control procedures. Disease-specific recommendations are available in the CDC Guidelines Directory.
Further Reading: Protecting Healthcare Personnel
Respiratory Hygiene Principles
Respiratory hygiene is another infection control action that is easy to implement and highly effective in preventing the transmission of infections. Healthcare hygiene best practices indicate that patients, health care workers, and visitors should:
Cover coughs and sneezes with a tissue

Dispose of that tissue right away

Follow a cough or sneeze with proper hand hygiene (washing or an alcohol rub where a sink is unavailable)
Respiratory hygiene should be strongly encouraged in patient waiting areas where those with respiratory illnesses or weak respiratory systems are likely to come into contact with other patients. Proper practices can be encouraged through the use of signage and the provision of masks to contain secreted droplets, particularly during times of increased respiratory infection (e.g., cold and flu season).
Further Reading: Respiratory Hygiene & Cough Etiquette
Patient Placement
According to the World Health Organization, one of the top 4 reasons that patients can acquire an infection in a healthcare setting is the "insufficient application of standard and isolation precautions" (WHO). Patient placement quite basically refers to the place where a patient is placed for the duration of their stay in a healthcare facility.
Patients who are known to be at risk for transmitting infections to other patients and staff should be placed in their own room whenever possible, with access to private hand-washing and toilet facilities. Where not possible, patients infected with the same organisms may be placed together or "cohorted."
In more extreme cases, a private room is not enough precaution and proper air handling methods must be used. For instance, an isolated patient should be in a room with ventilation that allows for regular air changes. An anteroom setup can also be useful in the case of highly infectious diseases because it allows HCWs who are moving in and out of the room to avoid transmitting dangerous airborne particles from the sources of infection when they enter a non-isolated area.
The setup for any isolated patient will depend on whether the patient themselves is infectious or whether they are immunocompromised and additional precautions must be taken to protect them from HAIs.
Further Reading: Guideline for Isolation Precautions: Preventing Transmission of Infectious Agents in Healthcare Settings
Cleaning and Disinfection
There are different ways that a patient can acquire an infection in a healthcare facility, including transmission from another patient or from a HCW. Additionally, the equipment and environment that a patient comes into contact with can be a hotbed of infectious possibilities if it is not properly cleaned and disinfected.
Patient Care Equipment
The right way to disinfect patient care equipment depends heavily on what type of equipment it is. The standard for most healthcare facilities is based on the idea of critical, semicritical, and noncritical items. As one would expect, critical items include all surgical instruments that enter sterile tissue or the vascular system. Semicritical items are those that come into contact with mucous membranes or nonintact skin, and noncritical items can be either patient care equipment or environmental surfaces that come into contact with intact skin.
Critical items should be purchased sterile and sterilized with steam when necessary. Other items should be disinfected with the chemicals that have been identified to work best with that particular item, paying attention to the longevity of the material where necessary. UV disinfection can be appropriate in some cases.
[See also: Environmental Infection Control]
Patient Care Environment
There is no single "correct" environment for patient care, and just as the environments themselves should be tailored to the type of care taking place within them, cleaning and disinfection protocols need to adapt to the environment and patient.
In general, air pressure should be monitored daily: negative pressure for airborne infection isolation rooms (AII) and positive pressure for protective environment rooms (PE). The aforementioned practice of air cycling is essential in maintaining sterile environments, both inside the environment and in the surrounding areas, and technologies such as far ultraviolet, or far-UV, can be used to disinfect patient care environments.

[See also: Environmental Infection Control]
Injection Practices
Patient injections, when not performed correctly, have the potential to be extremely hazardous in terms of the spread of infection. Luckily, safe injection practices are a key component of virtually every healthcare facility's infection control procedures, including:
The use of single-use, disposable needles and syringes

Proper disposal of sharps in a labeled, standardized container

Minimizing opportunity for error with single-dose medication vials, pre-filled syringes, and ampules whenever possible
Further reading: Make Smart Injection Choices: Safe Injection Practices