Facility Management: Confidence in Completing Construction Renovations
by HEPACART on May 08, 2023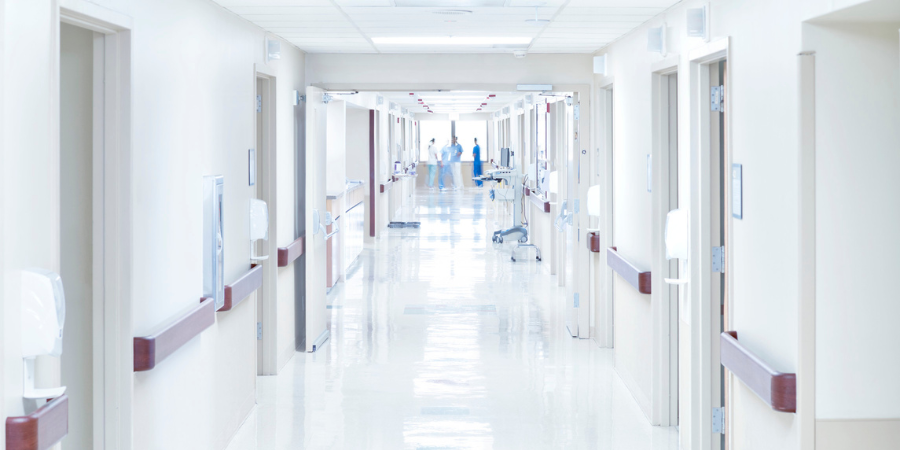 When your healthcare facility is beginning the process of construction renovation, a certain level of chaos is inevitable. There are many moving parts, from rearranging patient rooms and communicating with staff to managing construction dust and debris. As the facility manager, you must confidently navigate each step in the process while minimizing overall risk. Regarding air quality, particularly that of a healthcare facility, nothing should be left to chance.
This blog will explore available resources and tools to streamline the construction renovation project and keep construction teams, staff, and patients safe.
What is ICRA?
When you're getting started with any healthcare construction project, the first place you should begin is with ICRA. ICRA stands for Infection Control Risk Assessment. The ICRA guidelines are presented in a matrix that analyzes every possible source of dust or construction contaminant that can make its way through your hospital and how to keep that from happening.
Two main factors go into the approach of the ICRA framework:
1. They identify the type of construction that you are completing.
ICRA divides construction activities into four types — A, B, C, and D — and lists specific examples of each building based on their level of intensity.
2. It identifies the risks posed to hospital patients and staff.
ICRA evaluates the level of risk involved for patients and staff based on the physical area of the facility as well as the population of that department. For example, renovation in administrative areas would pose a lower health risk than construction activities in or around the Intensive Care Unit (ICU)
Once each of the two factors is nailed down, the rest of the ICRA guides the user through how to handle each part of the renovation process with the ultimate concern for every party that may be affected by the construction.
How to Follow ICRA Guidelines
There is no room for error regarding the health and safety of patients and staff. Hence, how the contractors on your project handle risk and potential infection is vital to a successful construction renovation project. But how can you be sure that different contractors and area leaders abide by high safety and patient consciousness at each step?
Require Formal ICRA Training
While encouraging ICRA standards or even teaching ICRA practices can effectively improve overall levels of dust and debris, consider taking this one step further by requiring that contractors partake in formal training in the principles of ICRA through the construction renovation project. Every type of project will have unique guidelines, so it is always a good idea to have every individual member of the construction crew, even experienced contractors, review project-specific practices and procedures.
This ensures they are fully aware of how the project can run safely. It also means that everyone on the project will be equally comfortable enforcing ICRA standards rather than leaning on the ICRA knowledge of a handful of informed individuals. From proper containment methods to ideal cleanup strategies, the more members of the construction team that are informed on ICRA practices, the better compliance you can expect.
Use Certified Equipment
If you want to equip your facility with the highest quality of machinery to combat the pollutants stirred up during construction, your best bet is to select damaging air equipment identified as highly-effective through several different intensive certifications.
For example, some of the certifications that our negative air machines are equipped to receive are IEST-RP-CC002.3, Unidirectional Clean Air Dev, and ISO 146441-1 Classifications of Air Cleanliness — certified equipment such as our own HEPACART® Auto Lift. The Auto Lift requires minimal setup time but provides essential dust control to maintain air quality throughout construction projects in a healthcare environment. When it comes to the health and safety of vulnerable patients, your ability to trust that the equipment you bring in will do its job is essential.
When your dust containment and air filtration equipment is certified by these or other reputable designations, you can be confident that your facility's budget is well-spent on equipment that will help your facility keep everyone — from contractors to patients — as safe as possible.
Encourage Facility Personnel to Follow ICRA
Although your contractors aren't the only ones operating day-to-day in the spaces they are working on renovating, there is often a lack of communication between contractors and hospital staff regarding ICRA practices for dust containment.
By leading by example, show the hospital staff that you effectively prioritize compliance during a construction project. Although seemingly straightforward, your buy-in and willingness to embrace the regulations, such as patient room disinfecting, hand-washing, using appropriate PPE, and more, will go a long way to encouraging facility personnel and visitors to do the same.
If you want to prioritize ICRA for your construction renovation project, you must enlist the help of personnel alongside the construction team. After all, everyone has the same goal, and if everyone is on the same page with the guidelines and standards of ICRA, confidence in completing your renovation project is much more likely.
Promote a Smarter and Healthier Facility
It is no longer enough to ensure a baseline of health and safety in your healthcare facility — the new standard continues to push current expectations and requires that facility managers go above and beyond. This push for a more innovative, healthier facility can seem daunting for the average healthcare facility, but it doesn't have to be. Simply taking the extra time and effort to put safety measures in place will make significant strides toward keeping everyone in your facility healthy and safe.
From the initial planning and preparation, any construction renovation project should include a shift in mindset from meeting only the basic legal requirements of project completion to an overall mentality of prioritizing safety above all else. In the case of a construction project, this means planning for the appropriate dust containment and air filtration equipment and ensuring your facility is properly equipped from day one.
You can better serve your staff, patients, and facility by staying current on the latest certifications and top-performing equipment. The result is a brighter and healthier facility for everyone involved.
Take on Construction with Confidence
When you take the necessary precautions and follow the steps and timeline of ICRA guidelines, you can make the best decisions through the renovation process. You can be completely confident in your decision-making along the way.
Using the ICRA matrix in your construction renovation plans will not only allow you to prioritize better the health and the specific concerns of varying staff or patient groups, but it will specifically outline detailed precautions and compliance guidelines to create a healthy and safe environment for your whole facility, from admin staff to the most vulnerable patients. Depending on where the project will take place, the groups of people that will be impacted, and the type of work that is being done, you can expect a detailed plan for necessary equipment, operations recommendations, and precautions to be taken by construction teams to minimize the impact on the facility overall. With the ICRA matrix, you don't have to worry about leaving any detail to chance.
Take the guesswork out of the planning process, and navigate construction projects confidently with our guide to the ICRA matrix will help you through the safest possible approach to your facility operations from start to finish.