Try This Air Purifier With a HEPA Filter for Classroom IAQ
by HEPACART on Feb 8, 2022 3:00:00 PM

Remove 99.97% of airborne particles, including those carrying COVID-19, for safer schools.
If you've ever read Malcolm Gladwell's The Tipping Point, you know that small factors can lead to big outcomes. This is true whether you're talking about a video that goes viral thanks to a few key people sharing it or something as serious as the spread of disease. Schools are trying to keep COVID-19 (SARS-CoV-2) transmission as low as possible because, like a viral video, one person can be responsible for spreading it to many people.
This is why schools implement mask and social distancing policies, recommend vaccinations, encourage students and faculty to wash hands constantly, and disinfect surfaces as frequently as possible, but the disease still spreads. If you want to avoid the tipping point, there's another step you can take for your school.
Cleaning the Air
Let's talk about air filtration. You and I know that not everyone is wearing a mask at all times. Some wear them, but not correctly. This can be true for teachers and students. We also know that not everyone is going to social distance, hand washing isn't perfect, and you can only clean desks so many times a day. What's left? Cleaning the air.
Upgrading your school's HVAC system is a good start, but it's not enough. If you want to reduce the viral load in the air, using HEPA filter air purifiers in classrooms and other student rooms will go a long way to help mitigate the spread of COVID-19, coronavirus variants, and other viruses.
The Power of HEPA Filters
Getting a HEPA filter for classroom IAQ is an excellent way to get those COVID-19-carrying airborne molecules down to a minimum. Let's take a moment to address something here. You may have heard that the COVID-19 virus is about 0.1 microns in size, and HEPA filters filter out particles at about 0.3 microns. What gives? Do HEPA filters trap COVID-19 or not? Yes, they do. Because the COVID-19 virus doesn't float around on its own, they have to piggyback on larger particles to get from one person to the next. It's these particles that are trapped by HEPA filters.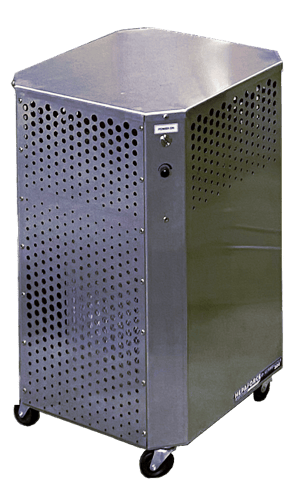 The HEPAFORCE® GermBuster 300 Room Air Purifier
With the GermBuster 300 Room Air Purifier, you can remove 99.97% of airborne particles down to 0.3 microns, more than enough to take out COVID-19, no matter what particles it's riding on. Not to get too technical, but the exhaust air from the GermBuster 300 HEPA filter for classroom use conforms to ISO Class 8 cleanroom standards. In other words, if you wanted to use this filter in your dust-free microchip manufacturing facility, it would be right at home.
Subscribe & Get A Trusted HEPA Filter For Classroom IAQ
We don't expect you to buy an army of GermBuster 300 outright. Instead, we offer our HEPA air purifier for classrooms and other student spaces on a subscription basis for only 95$ per month per machine. And because it's 40% more efficient than other similar units, you'll be saving even more money in the long run. The cost of clean air in your school doesn't have to be extravagant. You can have HEPA filtered air purifiers in every student room for a low monthly price, guaranteeing clean and safe indoor air. Included in your subscription are delivery, installation, and service.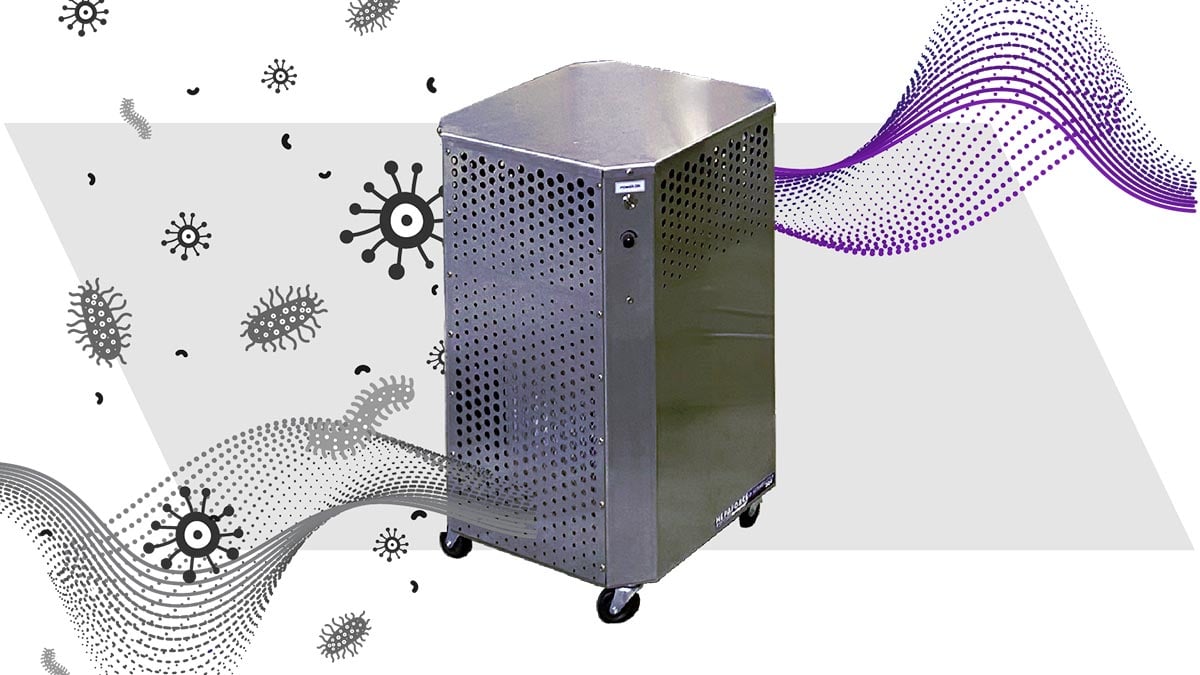 How It Works
Now we can talk about the nitty-gritty. How much air can the HEPAFORCE GermBuster 300 actually clean? Let's go by size:
800 cubic feet (10'x10'x8')

: For smaller rooms like staff offices, the GermBuster 300 will clean the air 24 times every hour.

3,200 cubic feet (20'x20'x8')

: For larger rooms like, say, the nurse's office or a small conference room, the GermBuster 300 will clean the air 6 times every hour.

6,400 cubic feet (20'x40'x8')

: For classrooms and other large gathering areas, the GermBuster 300 will clean the air 3 times per hour.
It's not a loud unit, either. It only measures 55 decibels at 5 feet, about the same as a percolating coffee maker. There's no problem talking over that. It has simple on/off controls, is made of easy-to-clean stainless steel, and has a canister-style filter for simple replacement. We'll send replacement filters to you when it's time to change them. You don't need to keep track or mark a calendar. We'll keep track of the change date for you and make sure you get the HEPA filters you need when it's time.
Under normal use, you can expect a 10-year lifespan for your GermBuster 300. The fan motor has a 50,000-hour lifespan, which comes out to about 6 years of continuous use. Of course, we'll be servicing it before there's any kind of failure. And it's not just robust on the inside, either. The outside, as I mentioned, is stainless steel, and all the controls are secured inside the unit. None of your students (or more mischievous faculty) will be able to mess with it and damage your GermBuster 300.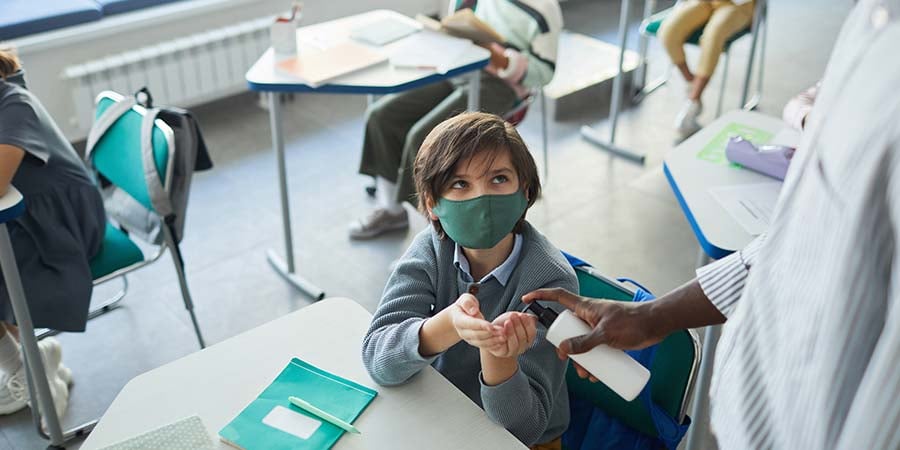 Guaranteed Effective & Affordable Air Purifier With a HEPA Filter for Classroom IAQ
That's the point, isn't it? Fewer absences, less downtime, more productivity. When a child is home sick from school, they're probably not learning much, if anything at all. The parents either need to hire a caregiver or stay home from work, meaning they aren't being productive. And, of course, there's the danger of spreading COVID-19 to the infirmed or elderly.
Keeping your school running smoothly is your job, and you take it seriously. We take ours seriously, too! Let's make sure your air is clean and as virus-free as possible. Check out our School GermBuster 300 Subscription Plan and fight COVID-19 with some serious firepower.
If you're worried about cost, check into the Elementary and Secondary School Emergency Relief (ESSER) Fund. The government is serious about fighting COVID-19 in schools to make sure children get the education they need and teachers a safe and healthy place to work.
More Reading: