Showcasing Dust Containment Technology at Upcoming Conferences
by HEPACART on May 25, 2016
As the summer ramps up, HEPACART™ is happy to announce that we will be represented at two shows in June, showcasing our top of the line dust containment products for a diverse audience of healthcare stakeholders. Check out the details below: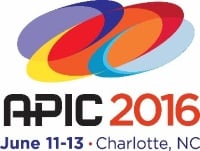 HEPACART™ Booth: 2004
What: APIC 2016
Where:
Charlotte Convention Center
501 S. College St.
Charlotte, NC
When:
June 11 - 13, 2016
What to Expect:
This is the 43rd annual APIC conference and will feature hours of educational presentations on the latest developments in infection control and prevention. Attendees at APIC 2016 will include healthcare professionals from all types of clinical settings as well as exhibitors who deal in infection control technology.
HEPACART™ is pleased to be exhibiting our industry leading dust containment products at APIC 2016. Portable containment units with HEPA filtration, anterooms, and temporary barriers from STARC Systems can all play a critical role in infection control and we look forward to showing APIC attendees how HEPACART™ can make a positive impact on their patients.
In Your Down Time:
As the official tourism website will tell you, Charlotte's got a lot. That is, there is plenty of nightlife and sightseeing to explore for APIC attendees who have a little bit of free time. A few of the options include the NASCAR Hall of Fame, the Charlotte Museum of History, and the Daniel Stowe Botanical Gardens.
More Info: http://ac2016.site.apic.org/

HEPACART ™ Booth: 1534
What: Premier Annual Breakthroughs Conference and Exhibition
Where:
Gaylord National Hotel & Convention Center
201 Waterfront Street
National Harbor, MD
When:
June 21-24, 2016
What to Expect:
Just a few days after APIC 2016, you will be able to find HEPACART™ represented at the Premier Annual Breakthroughs Conference and Exhibition just outside of Washington, DC in National Harbor Maryland. The conference is a multi-dimensional forum with an audience focused on performance and supply chain improvements and succeeding in a reform world, in particular key executives in the healthcare industry.
As a Premier contracted supplier, HEPACART™ is excited to be able to share our dust containment and infection control technology with healthcare stakeholders in attendance who are dedicated to a better patient experience.
In Your Down Time:
As the conference winds down on Friday, sign up to take a sightseeing tour of our nation's capital. You can choose between a bus tour of some of the most popular DC monuments or a sightseeing trolley tour that includes a range of famous memorials as well as Arlington National Cemetery.

More Info: http://breakthroughs.premierinc.com/