Life-saving Application: How Do Anterooms Empower Infection Control?
by HEPACART on Sep 18, 2023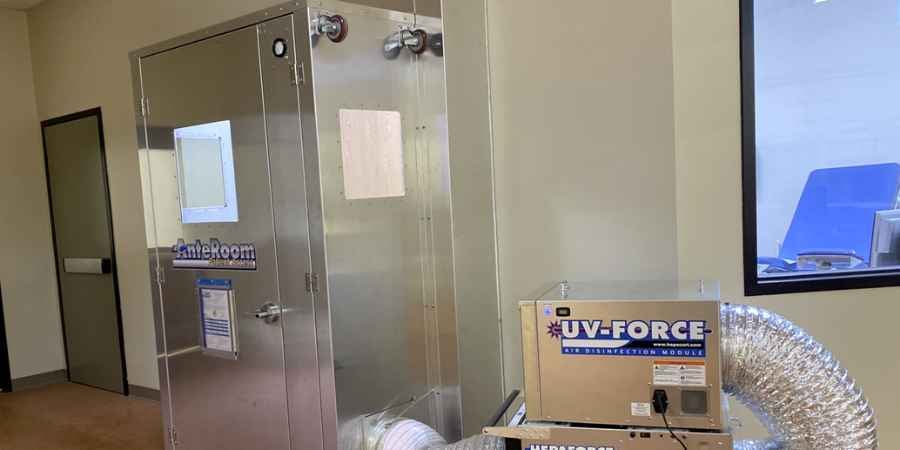 For modern medical facilities, meeting industry and certification standards is not just about compliance; it's about ensuring that both patients and staff are shielded from potential dangers. The performance of the HEPACART® AnteRoom with UV-Force takes protection to the next level. Designed specifically for complete room isolation against the spread of infectious disease, this mobile temporary isolation room supports ICRA I-IV standards simply yet effectively.
With a high-quality and versatile mobile isolation room solution, your facility can easily handle construction, renovation, and maintenance projects. Are you confident in your healthcare center's compliance and infection control? If not, the best-in-class performance of the HEPACART AnteRoom Classic could be what you've been missing.
Reliable ICRA Compliance With Anterooms
The Infection Control Risk Assessment (ICRA) Class V specifications, the most intense class of precautions, require an anteroom for effectively isolating the work environment and establishing negative airflow. Anterooms act as a buffer zone between a work area and the rest of the facility, preventing dust, debris, and infectious diseases from spreading beyond the work site.
A quality anteroom will meet these strict ICRA standards and ensure that your facility remains compliant while safeguarding the health of patients and staff. At HEPACART, we have carefully designed and tested the AnteRoom Classic to work hand-in-hand with UV-Force equipment to meet and exceed the requirements for ICRA classes I-V, so your facility can powerfully and cost-effectively combat the spread of disease through any project.
Stand-out Features in the AnteRoom Classic
The AnteRoom Classic begins with a commitment to excellence from the ground up. When you purchase any model of our AnteRoom Classic, you can expect the following:
Four Integrated Floor Levelers: The integrated floor levelers ensure the AnteRoom remains stable, even on uneven surfaces.
Magnetic Sealing Isolation Module: The AnteRoom seals magnetically to the door frame, ensuring a tight fit that effectively isolates the space and prevents the spread of airborne contaminants.
Interchangeable Flex-duct Adapter and Shut-off Plate: These components allow for easy installation and removal of the AnteRoom, increasing adaptability to various door configurations.
Removable Stabilizers: The AnteRoom 36 model has two removable and adjustable stabilizers for added stability and control during use.
Versatility for Any Healthcare Environment
We understand that every healthcare facility has a unique setup and distinct needs, so we've engineered a product that adapts to a variety of situations.
Each AnteRoom features thoughtfully-designed elements with versatility in mind, such as:
Exterior Electrical Plug: By placing an electrical plug on the outside of the AnteRoom unit, we've ensured the LED lighting and two convenience outlets can be powered effortlessly without compromising the isolated environment.
Size Adjustability: With a design that can extend or retract as needed, our AnteRoom fits doors of nearly any size.
Depth Expansion: The AnteRoom's depth can be expanded by one or two-foot increments, making it more versatile for different space requirements.
Power Right Where You Need It
It's not enough to simply provide effective containment — we understand the importance of functionality and convenience for your day-to-day operations.
The 120-volt wiring setup and GFCI-protected plugs allow you to safely power any tools that you may need through the process of construction or renovation. The additional external plug and two additional convenience outlets also ensure that you and your teams have easy access to plugs at any time.
Equipped With a Premium Door Package
An anteroom is so much more than a substitute doorway, and several of the AnteRoom Classic's features provide major functionality to streamline your facility's processes during a construction project.
Some of these features include:
Lock and Key Set: To reinforce the isolation and security of the contained area, the AnteRoom comes equipped with a lock and key set.
Large Window: The large window in the AnteRoom door allows for easy monitoring of the isolated space without compromising the room's containment.
Work Permit Slip Holder: This feature allows you to display necessary work permits in a visible, dedicated space. It promotes regulatory compliance and streamlines workflows.
Reversible Hinges and Lock: For added convenience and adaptability, the AnteRoom 36 and 48 models feature reversible hinges and locks, allowing the door to swing left or right as needed.
Industry-leading Safety Measures
At HEPACART, safety isn't an afterthought — it's at the core of our product design. The AnteRoom Classic is a testament to this commitment, combining excellent isolation capabilities with robust safety features.
The AnteRoom Classic boasts the following safety features:
Magnetic Isolation: The AnteRoom features a magnetic sealing system, ensuring a secure, airtight seal around the door frame.
Multiple Windows: Each AnteRoom model includes three windows strategically placed to allow for optimal visibility into the isolated area.
Adjustable LED Lighting: The AnteRoom Classic features adjustable LED lighting, providing ample light for clear vision for those working in and around the isolated space.
Thoughtful Structural Design
Through intentional design features, we're able to deliver a product that is not only easy to use but also built to stand the test of time in healthcare and construction environments.
Key features of our AnteRoom Classic's structure include:
Fully Box-framed Floor: Our AnteRoom models feature a fully box-framed floor, ensuring optimum strength and stability.
Lightweight Design: Despite its large size, the AnteRoom Classic is surprisingly light. This increases mobility and ease of installation without compromising on strength or durability.
Aircraft-grade Building Materials: Every model is assembled using aircraft-grade inserts, fasteners, and truss head screws.
Choosing the Right Size: Meeting Your Facility's Needs
We understand that each healthcare facility comes with its own unique size, layout, and requirements. At HEPACART, we ensure our AnteRoom models are versatile and adaptable to fit any door size in your facility.
We offer three distinct models — AnteRoom 36, AnteRoom 48, and AnteRoom Patient Access 48 — each meticulously designed to cater to different door dimensions.
AnteRoom 36:
Our AnteRoom 36 measures 39.5" in width, 24" in depth, and 85.5" in height, making it an ideal choice for facilities with smaller door dimensions. This model offers the option of adding extenders to accommodate larger doors, ensuring that even if your facility has a range of door sizes.
AnteRoom 48:
The AnteRoom 48 comes with working dimensions of 51.75" W x 24" D x 85.5" H. This larger model has been designed with versatility in mind, with the ability to add additional extenders and reducers to accommodate doors ranging from 36" to 52".
AnteRoom Patient Access 48:
Our AnteRoom Patient Access 48 has working dimensions of 48" W x 24" D x 85.5" H. This model is specially designed for wider access, fitting a 48" door natively and accommodating other door sizes up to 72" with extenders.
Explore our full range of extenders to accommodate any size door: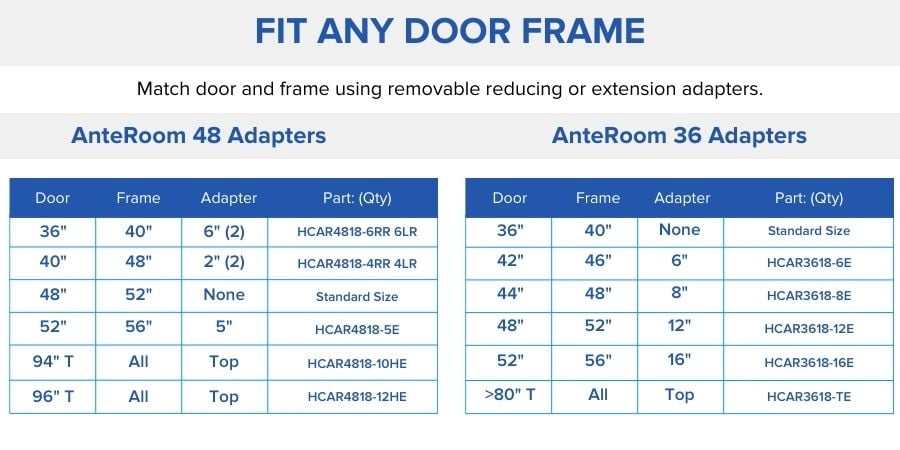 Enhancing Safety and Efficiency: Additional Options & Accessories
Don't see exactly what you're looking for? The AnteRoom Classic can be customized with any of the following options or accessories to better suit your facility's needs.
Air Filtration: HEPAFORCE® Negative Air Machine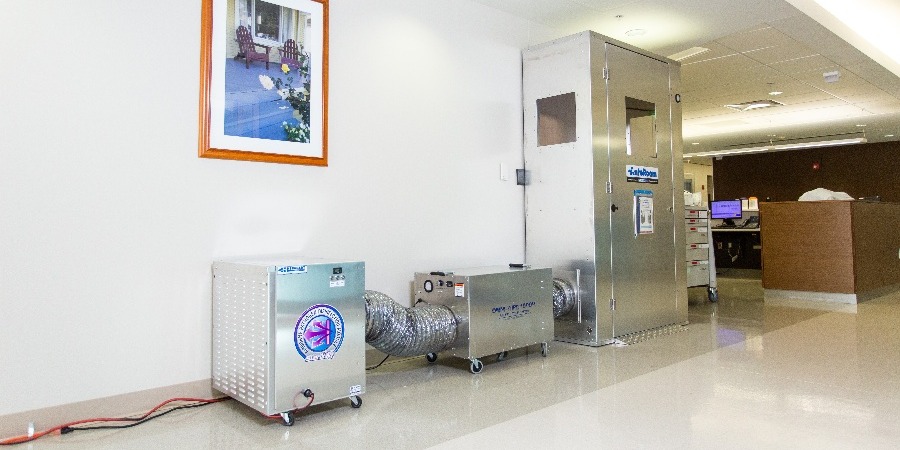 The HEPAFORCE Negative Air Machine is a medical-grade air filtration system featuring a variable speed, finely tuned airflow of 50-1000 cfm. With an energy-efficient ECM fan, this machine is quieter and rated for 50,000 hours of usage. It has filter change warning lights, built-in cord storage and facilitates easy HEPA and prefilter changeouts.
Venting Solution: DUCTZONE®
With one 18" Far-UVC (222nm) lamp, the DUCTZONE delivers powerful disinfection, effectively inactivating viruses and bacteria in a single pass. This system comes with a 300-watt power supply and a mercury-free Far-UVC lamp with a 3,000-hour lifetime, offering an efficient and durable solution for venting.
UV Disinfection: SMARTCLEAN®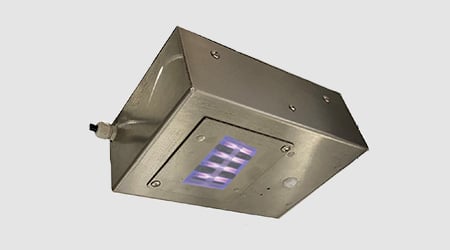 Our SMARTCLEAN solution offers continuous surface disinfection, equipped with a motion sensor to deactivate the lamp when motion is detected. Its Far-UVC lamp module delivers 100 mJ of disinfecting power, capable of inactivating any virus, bacteria, or fungus during one standard cleaning cycle.
Monitor: Motion Sensing Surface Disinfection
Configurable to monitor either positive or negative pressure in protected spaces, this monitoring system enhances the safety and reliability of your facility's infection control measures.
Access: Locking Handle Set and Keypad Lock
We provide locking handle sets featuring 7-pin locks with heavy-duty levers for added security. Additionally, digital programmable keypads with auto-lock and Elan levers can secure your AnteRoom units effectively.
Prioritizing Health and Safety with AnteRoom Classic
In the fight against infectious diseases, every detail matters. Ensuring ICRA compliance, enhancing patient and staff safety, and maintaining efficient operations during construction or renovation projects are complex yet vital tasks for healthcare facilities.
The AnteRoom Classic offers a sophisticated solution to these challenges, providing a versatile and feature-rich mobile temporary isolation room that supports rigid ICRA standards. Our customizable equipment empowers your facility to optimize infection control measures, safeguarding the health of your patients and staff. Choose HEPACART's AnteRoom and experience the power of superior infection control. Get started today with our pricing guide to find your own AnteRoom solution today.