HEPAFORCE®AIR Negative Air Machines & Scrubbers, Infection Control
Keeping Indoor Air Clean During Wildfire Season Amid a Pandemic
Posted by
HEPACART
on Sep 9 2020 07:00 PM
The combination of wildfire smoke and the COVID-19 virus presents a challenge to keep indoor air safe.
Unfortunately, the 2020 wildfire season is already worse than average in California, Arizona, and other western states. Wildfire air quality is not something to take lightly, and right now, this smoke-filled air is blanketing large swaths of several western states where millions live. Unfortunately, the conditions that encourage wildfires aren't going away soon. The Climate Prediction Center of the National Weather Service forecasts a hotter and drier summer, with drought extending through October.
Meanwhile, COVID-19 has been spiking. It seems evident that no good is likely to come from the intersection of COVID-19 and wildfire air pollution.
Since keeping firefighters safe is an ongoing effort at Cal Fire and other firefighting organizations, a new concern is emerging that wildfire smoke might exacerbate COVID-19 symptoms. But it's not just firefighters who are at risk, since millions live downwind of the hundreds of wildfires that pop up every year, many of them elderly or ill, and particularly vulnerable to the effects of air pollution on the lungs.
Wildfire Smoke & COVID-19
Wildfire smoke contains particles that air pollution researchers call particulate matter 2.5, or PM 2.5, which wreaks havoc on the lungs, suppressing the immune response and causing inflammation in lung cells. Numerous studies have determined that regular exposure to ambient PM 2.5 reduces life expectancy.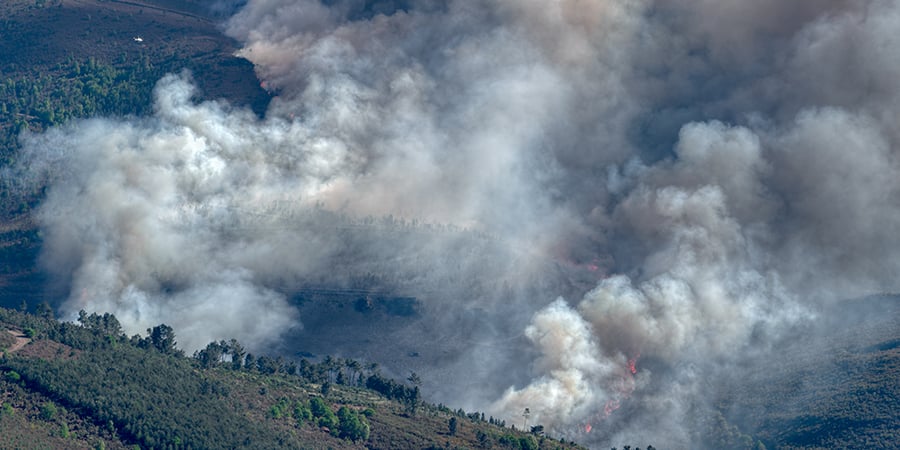 The CDC says wildfire smoke can worsen chronic heart and lung diseases. And NIH research conducted in Montana established that high daily average PM 2.5 concentrations during the wildfire season were positively associated with increased influenza the following winter. Also, a nationwide Harvard study showed that people living regions with more air pollution are more likely to die from COVID-19 than those from less polluted areas.
It's reasonable to conclude that inhaling both smoke and the SARS-CoV-2 virus (which causes COVID-19) is a very bad thing, because it tasks the immune system with two things at once, which — in some individuals — it may not be able to handle.
Keeping Indoor Air Clean & Safe
Homes in the path of wildfire smoke can be kept reasonably particulate-free if simple steps like these are taken:
Shut out polluted air by closing windows and sealing cracks around doors and windows
Turn off vents and AC units with fresh-air intake and set to recirculate
Clean floors with a damp mop instead of a vacuum
Use N95 or P100 masks outside
Upgrade or change HVAC system filters
Buy and use HEPA air purifiers based on room size recommendations
Cleaner air shelters, hospitals, and healthcare facilities require a different approach than in-home air purifying to properly clean indoor air.


Cleaner air shelters are public spaces where people can seek relief from wildfire smoke, whether overnight or for an extended stay, depending on circumstances. Many communities provide cleaner air shelters for those who can't adequately clean air in their own homes during wildfires. School gymnasiums, buildings at public fairgrounds, and civic auditoriums are examples of spaces temporarily used as cleaner air shelters. Additionally, libraries, museums, shopping malls, senior centers, and other large indoor areas with effective particle filtration and air conditioning can be used as clearer air shelters. Buildings chosen as cleaner air shelters are large enough to house many people at one time, can offer adequate restroom facilities, and have HVAC systems with filtration that can reduce smoke and the risk of viral transmission of coronavirus.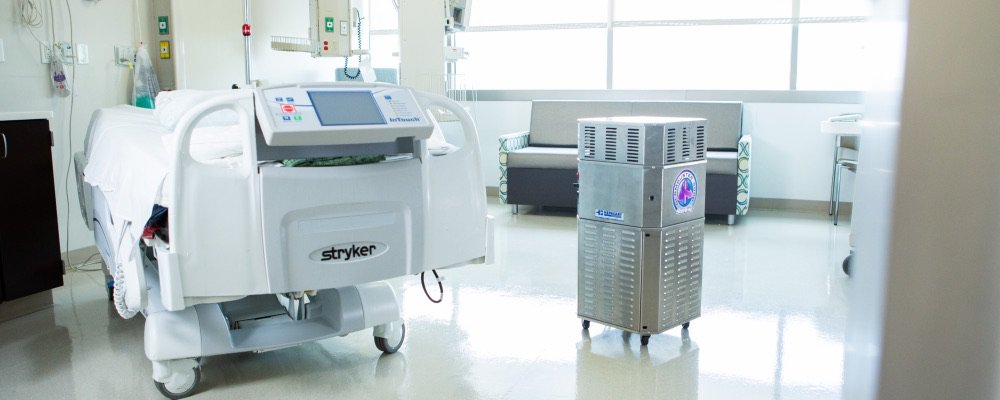 In addition to high HVAC and air filtration standards, hospitals and healthcare facilities can isolate COVID-19 patients and are more likely to be equipped with negative air machines like the HEPACART® HEPAFORCE to control airflow and HEPACART® UV-FORCE to employ Far-UV light disinfection, providing even greater protection from airborne viruses and toxins. Healthcare facilities may also be armed with portable disinfection units such as the Germbuster 5000 that also use Far-UV light to remove airborne pathogens in a single 2000-cubic-foot room, disinfecting the air nine times per hour.
During a typical wildfire season, hospitals see more people coming in for respiratory issues. The worry this year is that the smoke from wildfires could increase the severity of COVID-19 symptoms. Research also has shown that wildfire smoke raises the risk of lower respiratory tract infections such as acute bronchitis and pneumonia by impairing the immune response. For these reasons and more, having the right tools in place is critical. They can help clean the air of smoke and pathogens, protecting staff, patients, and families. Removing pollutants and reducing the viral load to non-infectious levels, mitigates risk and the spread of infection.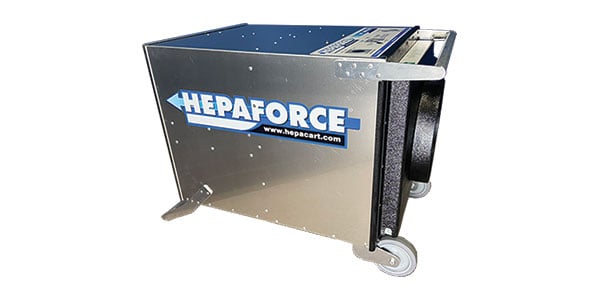 Discover how the HEPAFORCE Negative Air Machines and other large-space air disinfection equipment can help keep your facility safe during wildfire season amid a pandemic. If you need help choosing the right tools for your facility, feel free to contact us.
Resources: