Infection Control Risk Assessment: Can You Afford to Ignore It?
by HEPACART on Aug 14, 2023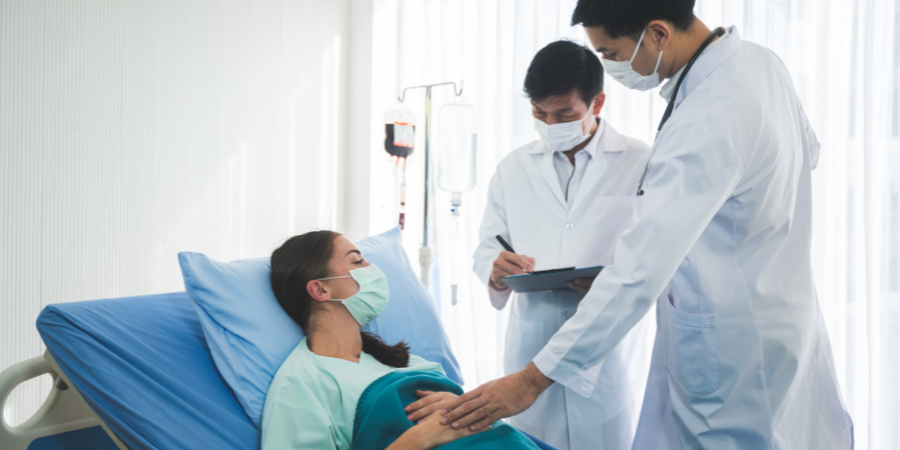 Complying with Infection Control Risk Assessment (ICRA) standards should be on your priority list. If you fail to do so, patient and staff safety, fines, failure to be paid by insurance, and your facility's reputation are at stake. Don't compromise your facility when ICRA standards can help you make the right decisions for your facility.
This blog explores ICRA standards and the risks of ignoring these essential guidelines. Stick around for a deep dive into ICRA and a free downloadable guide to walk you through ICRA compliance for your medical facility.
Embrace a SMART Approach to ICRA
To tackle ICRA effectively and organizationally, consider adopting the SMART framework. "SMART" stands for specific, measurable, actionable, realistic, and timely. This strategy for implementing ICRA principles helps to ensure that you are using your time and resources wisely to have the best possible results for your medical facility's patients and staff.
Specific: Identify Exact Areas of Risk
The first step is identifying specific infection risks and challenges your facility faces. This includes evaluating the location, population served, employee management, staff education practices, and cleaning procedures. When you can think through each risk factor and list them to be considered individually, you're much more likely to address any areas of concern effectively.
Measurable: Understand What Success Looks Like
Clinical surveillance data is an invaluable tool in ICRA. Data-driven results help you understand the effectiveness of your infection control measures. This understanding allows you to make necessary adjustments for better decision-making.
Actionable: Create a Tangible Plan
Prioritizing threats based on their potential impact and probability is crucial. Each threat should be examined individually to rank its severity and take appropriate action. Sometimes, this might mean establishing an action plan with your team. In others, you might rent or purchase dust containment equipment. Whatever your strategy, this is the time to map it out and understand how each aspect of your plan will help mitigate the risks you initially identified.
Realistic: Allow Room for Reality
Including your staff in the ICRA process is invaluable. Accrediting agencies often don't give specific instructions for this step, so you can include as much staff input as possible as you build your risk assessment. Those working on the frontline often have the most insight into the challenges faced, and their suggestions can significantly enhance your risk assessment. Don't shy away from seeking their input; their hands-on experience could lead to practical, effective solutions.
Timely: Set Up Intentional Reviews
Regular assessments, ideally annually or more frequently if necessary, ensure you stay ahead of potential outbreaks and infections. We recommend setting up routine checks to ensure you comply with ICRA standards from day one onwards.
Understanding Risk Management in Healthcare
Risk management in healthcare revolves around identifying, monitoring, and mitigating potential threats through ongoing procedures to prevent harm to your patients, staff, and visitors to your facility. Traditionally, when we think of medical risks in a healthcare environment, the first thing that comes to mind is medical errors. Today, we know that there are so many more factors that can go into the health and safety of a patient.
The air quality and potential infection control risks must be maintained with the same level of care and attention because they are equally pivotal in maintaining a safe healthcare environment. The entire medical facility is at risk if the air around your patients is low-quality or contains dangerous airborne particles. Don't let air quality undermine the hard work of your medical professionals — use ICRA standards and procedures to your advantage.
Take Advantage of ICRA for Facility Safety
Ignoring infection control isn't just a safety hazard — it's a financial risk. Overlooking safety protocols could result in hefty fines, failure to be paid out by insurance, and not to mention the potential impact on the health and safety of those in the facility. High-risk patients, in particular, may face severe consequences in the event of an infection outbreak. Don't let this be the reality in your facility.
These guidelines are set to reduce risk for your patients, your staff, and the facility. Using these strict standards for health and safety, your facility will be better prepared and overall more prepared for the challenges that a construction or renovation project might bring.
Understanding ICRA Steps
1. Determine Your Project Type
Using the chart above, determine where your construction or renovation project falls on the scale. With this information, you can determine whether your facility must classify itself as type A, B, C, or D within the ICRA framework. While type A is lighter or "non-invasive" projects, type D is considered major or disruptive.
Most projects fall between these two categories, and understanding your type will inform your implementation of practices. Without determining your category with infection control, you may be going overboard with preparations or not doing nearly enough.
2. Determine Your Patient Risk Group
Again, using the matrix, you'll decide which level of patient risk group is appropriate for your project. From low risk, medium risk, high risk, and highest risk, you will select the level of risk most fitting for the location of your construction work within your facility.
3. Find Your Class of Precautions
Once you have completed steps one and two, you can match them to determine your Class of Precautions. This resource helps you to perfectly align your unique project with the patients that will be impacted to create an appropriate plan for implementing ICRA procedures. This will allow you to think less about the precautions and apply the checklist that makes the most sense for your patients and project.
4. Assess Potential Risks to Surrounding Areas
Lastly, you'll need to consider the surrounding areas of your construction or renovation project. These projects do not happen in a bubble, and it's important to consider how they will impact the facility. Using the ICRA guide, take note of the surrounding areas and then choose the highest applicable risk level that applies.
Empower Your Facility with ICRA
ICRA standards and procedures are uniquely designed to help your facility find the best fit of precautions and carry them out in a way that simplifies your life as the facility manager simpler and easier. You don't have to think through every possible outcome when the ICRA guide has done that for you already. Save yourself the headache and stress while providing the safest possible environment for your patients and staff with ICRA standards and our free downloadable guide.
Investing in high-quality infection control equipment can pay dividends in terms of cleanliness and financial savings. Equipment, such as HEPA filters and air purifiers, can keep your facility clean even during construction projects, saving you from potential fines and lawsuits. There is an infection control machine between dust containment, access control, air purification, and more for any project. Especially for a busy medical facility, infection control equipment can improve the effectiveness of your dust containment strategies and maintain high indoor air quality levels to support your goals.
Don't Let Potential Infection Slow You Down
Infection control is too important to be sidelined in your healthcare facility. Its impact on patient safety, staff well-being, and financial viability is huge. Take a proactive approach towards infection control, and don't let potential infections slow down your facility's operations. Download the comprehensive guide today to learn more about ICRA and how to implement it in your facility.