Frequently Asked Questions About AnteRooms
by HEPACART on May 01, 2019
There is always a steady need for tools that can aid with infection control during hospital construction projects. In order to protect patient safety and ensure that contaminated air is not spread around healthcare facilities, there needs to be procedures and tools in place that can decontaminate and separate potentially infectious spaces from vulnerable patients. One of the best tools for those purposes is the AnteRoom.
There are many questions that get asked about AnteRooms. What exactly they are, how they work, what the installation process is like, and how much they cost are some of the most frequently asked AnteRoom questions. In order to help you get all the information you need, here are some of those common AnteRoom questions in one place.
What is an AnteRoom?
The definition used in hospital construction, maintenance, and infection control for an AnteRoom is a tool that protects people from contaminated air by isolating a larger contaminated unoccupied room and it's contaminated air from the non-contaminated occupied area.
At HEPACART®, we use a slightly more specific definition. We define an AnteRoom as a HEPA-filtered, negative-air chamber that isolates workspace from patient space.
How do I pick the right AnteRoom?
For any project you need the tools that are going to best help you complete your work in a timely and efficient manner. The same principle of the right tool applies to AnteRooms, which is why HEPACART® offers different AnteRoom products to meet your project needs.
These different variations are designed to help you with any sized project, and the variations are meant to help you customize your tools for infection control, dust and pathogen containment, room isolation, and emergency preparedness.
If you run across questions about what type of AnteRoom or what tools are going to be the most help during a project, take our project assessment to figure out exactly what it is that you need.
What will I be able to use the AnteRoom for?
AnteRooms have many uses in a healthcare facility. While the main purpose of an AnteRoom is to separate contaminated air from the rest of the hospital, there are different situations where this service is called for, such as:
Major hospital construction

Minor hospital renovations

Ongoing maintenance projects

Infection control

Emergency isolation
What tools do AnteRooms replace?
AnteRooms can take the place of inferior isolation solutions like plastic sheeting. Not only is plastic sheeting extremely wasteful, but it doesn't fully protect patients as bacteria and other pathogens cling to the plastic sheeting and can be spread around hospitals.
The HEPACART® AnteRoom works better than other AnteRooms because it is a portable option that can be continually used for projects after the first use. Many AnteRooms aren't portable, and can only be installed once. The HEPACART® AnteRoom also works better than inflatable AnteRooms that are both hard to store and difficult to clean and disinfect.
How long does an AnteRoom take to install?
The installation process of a HEPACART® AnteRoom takes as little as five minutes. The AnteRoom easily snaps into place over hospital door frames with the use of a magnetic seal. The process also requires minimal labor for installation.
Once installed, the AnteRoom is ready to go. Workers pass through as quickly as opening a door. After decontaminating and removing equipment in the AnteRoom, a negative air machine ensures that the contaminated air doesn't escape with the worker as they exit out of the AnteRoom.
Can I use the AnteRoom with other HEPACART
®

products?

The HEPACART ® AnteRoom can work in conjunction with other HEPACART® infection control products. It already uses a HEPA-filtered negative air machine to ensure that contaminated air doesn't escape out the doorway with workers.

Other products it can be used with include the airborne pathogen disinfection module, or ADM. The ADM uses UV-light to eliminate pathogens that can get into the air during situations like ceiling construction where there isn't a convenient ducting area. Together, the AnteRoom and other products provide additional infection control solutions for your project.
What's the value of my AnteRoom?
The HEPACART® AnteRoom pays for itself after one use. Because of the ease of portability with a HEPACART® AnteRoom, you can easily use the same room for multiple projects. It isn't a one-time expense, it's a long-term value.
The AnteRoom is also a green solution, especially when compared to the amount of plastic sheeting it would take to isolate rooms in a hospital for multiple construction projects. The AnteRoom is an extremely cost-effective solution for the long term, as you can see from the following chart: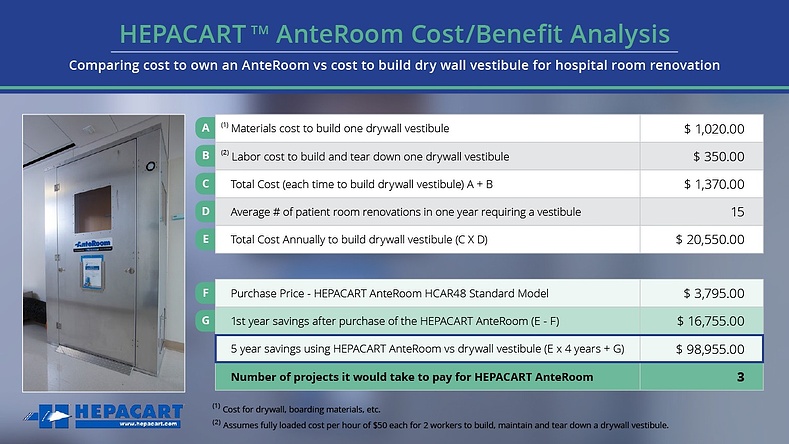 If you still have questions about AnteRooms, download our Complete Guide to Hospital Anterooms for even more information about this infection control tool.