COVID-19 Guidance: Steps Healthcare Facilities Can Take to Contain Coronavirus
Posted by
HEPACART
on Apr 21 2020 08:00 PM
All U.S. hospitals should be prepared for the possible arrival of patients with COVID-19.
Undiagnosed positive patients, individuals not following government recommended precautions or mandates, and a severe lack of protective gear, medical equipment, and healthcare supplies have made this already unprecedented situation even more challenging.
Stopping the spread of COVID-19 is critical for maintaining healthcare services during the ongoing COVID-19 pandemic. All U.S. hospitals should be prepared for the possible arrival of patients with COVID-19.
Leaders in the medical and infectious disease industry advise freeing up inpatient capacity for patients with suspected or confirmed coronavirus, prepping dedicated teams to handle triage and care, and creating a plan for obtaining supplies and equipment.
To help healthcare facilities, the CDC put together a Comprehensive Hospital Preparedness Checklist for Coronavirus Disease 2019 (COVID-19). Additionally, this article provides critical details about the virus, how it spreads, and what healthcare facilities and hospitals can do to stop it from spreading further.
How COVID-19 Spreads & Who's Most Vulnerable
We know that COVID-19 spreads primarily when an infected person discharges saliva or mucus through coughing or sneezing. When the droplets are inhaled into the upper respiratory tract and the lungs of others, they're likely to be infected. We also learned that the virus can be spread through touch. Touching an infected surface then touching your eyes, mouth, or nose can perpetuate the spread. It's believed that COVID-19 is viable on surfaces for 2-3 days and in aerosol form for at least 3 hours.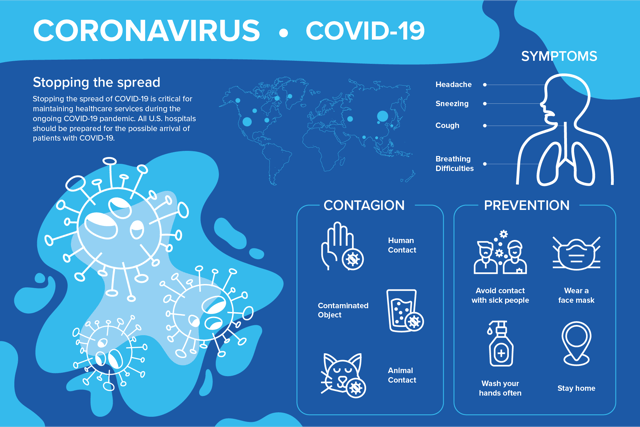 Unfortunately, there's significant transmission by people who don't show symptoms. As many as 25% of those infected with the coronavirus don't present symptoms but can transmit the illness to others. In fact, a study found that people with symptoms, including a cough, low-grade fever, and headache, were the most contagious before they displayed any of these classic signs.

Based on available information and clinical expertise, older adults and people of any age who have serious underlying medical conditions are at higher risk for severe illness from COVID-19. This means seniors, nursing home residents, and assisted living residents have a greater risk of becoming infected and becoming very sick if exposed.
Of those who become infected and exhibit symptoms:
15% of infected require oxygen interventions
3-4% mortality rate vs 0.1% for influenza (30x higher)
80 yrs and older mortality rate is near 15% (70 = 8%, 60 = 3%)
The public has been given practical advice for staying healthy and eliminating the chance of being exposed or becoming infected with the virus. Everything from hand washing songs and social distancing measures to how to disinfect grocery packaging and ways to make DIY masks have been vital in keeping people healthy — but there's a lot behind the scenes that only medical professionals and frontline staff see and experience.
What have you been doing to keep your staff healthy, infected patients comfortable, and other high-priority patients safe? There's a lot to unpack there, but for now, let's focus on what healthcare facilities are doing to control the spread of COVID-19.
Containment Steps for Hospital & Health Facility Operators
Three basic steps for containing the spread of COVID-19 include (but not limited to): 1) verifying the performance of existing Airborne Infectious Isolation Rooms, 2) confirming the efficiency of the Emergency Department HVAC system, and 3) securing all HEPA units.
Airborne Infectious Isolation Rooms / Negative Pressure Rooms
Airborne Infection Isolation (AII) rooms, commonly called negative pressure rooms, are single-occupancy patient care spaces designed to isolate airborne pathogens to a safe containment area. Hospitals generally have 1-2 isolation rooms per patient floor or suite. These rooms are ideal for infectious conditions like coronavirus and tuberculosis.
The CDC is recommending that isolation rooms be used only for COVID-19 patients undergoing aerosol generating procedures (AGPs). Examples of AGPs include:
Positive pressure ventilation (BiPAP and CPAP)
Endotracheal intubation
Airway suction
High-frequency oscillatory ventilation
Tracheostomy
Chest physiotherapy
Nebulizer treatment
Sputum induction
Bronchoscopy.
Additionally, the CDC has provided recent guidance that "facilities could consider designating entire units" to care for known or suspected COVID-19 patients and staffed with dedicated healthcare personnel to limit exposure risk. However, some clinicians have advocated against placing suspected and confirmed patients in the same unit to avoid the potential for conversion.
In regards to the Emergency Department (ED), hospitals are restricting to ambulatory patients only and designating a specific area for respiratory cases as ways to manage patient influx, congestion, and to control the risk of exposure to healthcare workers.
Persons Under Investigation (PUI) capable of self-care are triaged outside of the ED either through drive-through or walk-up screening stations set up in a tent or temporary space and advised to continue home care until results are available.
Anterooms
Current CDC guidelines recommend negative-pressure rooms with anterooms for patients with hemorrhagic fever and use of HEPA respirators by persons entering these rooms. If an anteroom is not available, portable, industrial-grade, high-efficiency particulate air (HEPA) filter units can be used to provide the equivalent air changes per hour (ACH).
If an isolation room with an anteroom is not available, using a portable, industrial-grade HEPA filter unit may help to increase the number of ACHs while facilitating the removal of pathogens. However, a fresh air source must be present to achieve the proper air exchange rate.
HVAC Systems
HVAC systems can protect healthcare workers and instill confidence by providing safe environments for their interactions with most contagious patients and reduce exposure when patients discharge contaminants during care or procedures.
Facts to note:
Isolation rooms require 12 air changes with air directly exhausted
Air changes, or air cleaning, dilute contaminant levels
Exhaust removes contaminants
Filtration removes contaminants
Negative pressure helps contain contaminants
HEPA Filtering Units
HEPA filters can capture particles the size of the coronavirus that causes COVID-19. According to the CDC, devices with HEPA filtration can increase the effective air changes per hour of clean air to the patient room, reducing risk to individuals entering the room without respiratory protection.
HEPACART Infection Control Options
One of the primary missions of HEPACART® is to protect patients from pathogens in hospitals and other hazardous environments. Here are a few of our infection control products that healthcare entities are using to help eliminate the spread of viruses and other contagions in their facilities.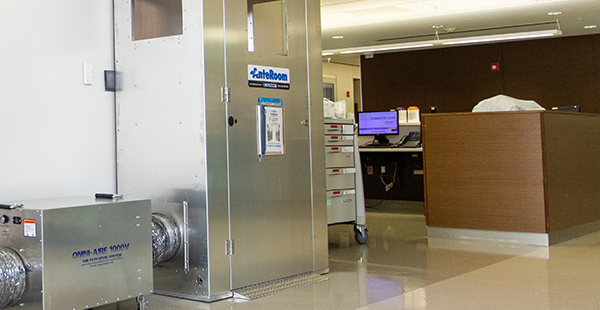 HEPACART® AnteRooms are temporary room isolation modules that serve as an entryway or vestibule into any larger room, including isolation rooms. With external negative air machine adapters on either side of the enclosure, the HEPACART® AnteRoom provides air filtration and infection control.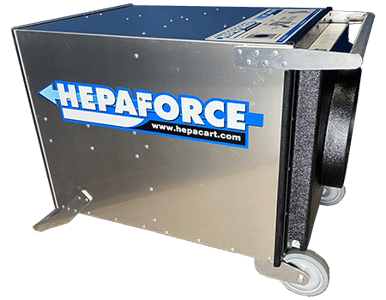 HEPAFORCE® Negative Air Machines are used to clean the air and create positive or negative air pressure. It can be used on its own or in conjunction with the HEPACART® AnteRoom or Airborne Pathogen Disinfection Module. The medical-grade HEPA filtration option can clean air 99.99%.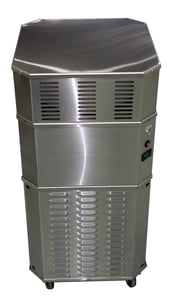 The HEPACART® Germbuster 5000 features UV-FORCE technology that provides continuous air disinfection in patient rooms, consultation rooms, waiting rooms, and anywhere else where the infected are a risk to the healthy. One Germbuster 5000 can disinfect the air 9 times per hour in a room of 2000 cubic feet, reducing the air to non-infectious levels.
More Trusted Coronavirus Resources
New or revised information is published multiple times a day, and press conferences are held daily. It's a lot to decipher and mentally process. Here are some top resources that we trust. They keep us updated as new information emerges, safety practices are enhanced, and when treatments or vaccinations become available. We hope you find them helpful, too.

Lastly, this COVID-19 Guidance PDF is a compilation of slides put together by ASHE, ASHRAE Technical Committee for Healthcare, and ANSI/ASHRAE/ASHE Standard 170 Committee. It addresses isolation rooms, negative air machines, layered approaches to eliminating HAIs, and practical facility and room diagrams that show how and where to use infection control equipment.