Anteroom Best Practices: How to Revolutionize Your Healthcare Facility
by HEPACART on Aug 29, 2023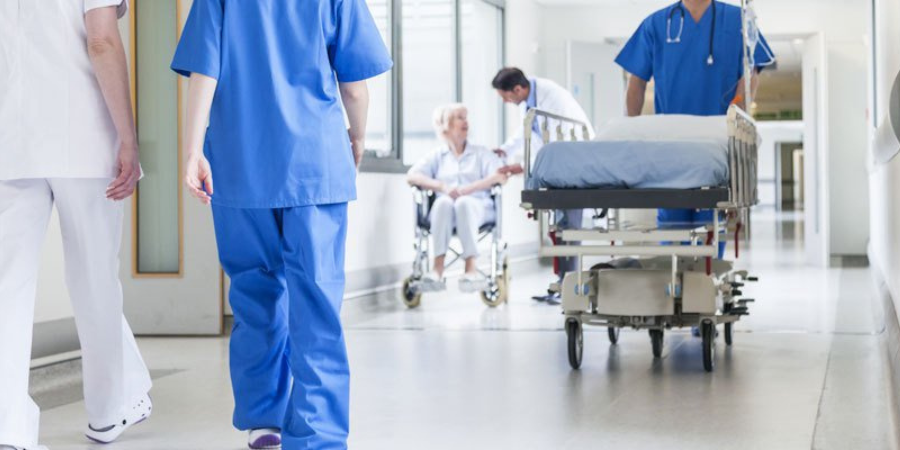 Your healthcare facility is more than just a place where care is given to your patients; it's a sanctuary where your staff advocates for the highest levels of safety and hygiene on behalf of every person inside its walls. When it comes to how to maintain those sky-high standards, you can trust our industry-leading anteroom products to keep your facility safe and healthy for everyone. By isolating dust and airborne pathogens from escaping a job site, anteroom products are a valuable tool to keep dangerous construction debris where it belongs.
In today's blog, we offer a deep dive into anteroom best practices and a comprehensive guide to help you make the most out of your safety equipment. You can revolutionize your healthcare facility by providing fast, easy, and safe deployment while meeting stringent safety standards and certifications and supporting an ideal environment for HEPA air filtration and negative air solutions.
Anterooms Are Essential for Patient and Construction Isolation
Isolation rooms are essential in healthcare facilities because healthcare doesn't wait. While there may be necessary projects for maintenance or renovation jobs, plenty of patients and their families still need your facility's services.

By deploying an isolation room, your staff can close off affected areas and contain the mess (and the resulting dust, debris, and other airborne pathogens)of your ongoing construction or renovation projects so that they are much less of a threat to vulnerable patient groups. Not only that, but they help your staff reduce waste.

Whether your isolation rooms are used to contain construction projects or to provide a controlled environment for patients with infectious diseases, these spaces are designed to keep airborne contaminants inside. By maintaining effective isolation practices, you can ensure that the rest of your facility remains safe and largely unaffected. For an added layer of protection, negative air machines and HEPA filtration systems can be paired with an anteroom to provide peak levels of protection from potentially dangerous contaminants.
Understanding Anterooms
An anteroom, in the simplest of terms, is a small room that you enter before accessing a larger one. For example, the mudroom in a house or the waiting room in a doctor's office could be considered "anterooms" as they're spaces entered before the main, larger space. Put simply; it's a middle space between one area and another.
An anteroom acts as a barrier to protect sensitive spaces from outside contaminants in a healthcare setting. Think about an infectious patient room. The idea is to seal any airborne pathogens inside and protect individuals on the outside. The same is also true in the case of construction or renovation projects. While ongoing construction may kick up dust and debris, an anteroom can seal off the work zone to limit its impact on surrounding patients and staff.
The anteroom also provides a safe environment for workers to remove any contaminated items before reentering non-contaminated areas. Because of the resulting transition space between general facility areas and the active construction or renovation project, you're better able to control the flow of dirt, germs, and debris from one space to the next.
The Importance of Anterooms in Hospitals
Anterooms are truly the unsung heroes of patient safety. The physical separation from potentially harmful debris and airborne pathogens can make a huge difference in the spread of infection in your facility. This is particularly true during construction and maintenance projects, patient isolation, or as an added measure for general infection control. Your team can much more easily contain dust, debris, and dangerous pathogens when there is a securely-sealed barrier between spaces to manage the airflow and the movement of airborne contaminants.
In addition to safety related to construction projects, an anteroom can expand your facility's capacity for patients needing isolation. When hospitals are constrained with limited isolation rooms or face an emergency isolation situation, anterooms help prevent serious hospital-acquired illnesses (HAIs) by allowing your staff to create instant isolation rooms as they are needed. With the addition of negative air machines and HEPA filtration, anterooms equip your facility with secure, on-demand patient isolation rooms.
Standout Features of the HEPACART® AnteRoom
A modern healthcare environment demands innovation and the highest levels of quality and efficiency. That's why we created the HEPACART AnteRoom — to provide all of the value of an anteroom backed by your trusted HEPACART name. Let's dive into the features that make this unit so unique.
1. Portability and Flexibility
Flexibility is a key value of modern healthcare facilities. The HEPACART AnteRoom embodies this principle with its mobile design, ensuring it can be effortlessly relocated whenever needed. When the work is done, the HEPACART AnteRoom tucks away easily thanks to its compact size.
2. Integrates with HEPA Filtration System
The HEPACART Mobile AnteRoom was designed to seamlessly integrate with HEPA filtration. HEPA filters are top-of-the-line for providing excellent air quality, and pairing this level of filtration with your anteroom elevates the health and safety of your entire facility.
3. Negative Pressure Capability
Safety is not just about keeping pathogens in; it's about managing how air flows between the two spaces that your anteroom connects. The HEPACART AnteRoom is excellent at maintaining negative pressure when paired with a negative air machine like our HEPAFORCE® line. This feature is critical to ensure that any potentially harmful airborne particles are contained effectively.
4. Seamless Integration
The HEPACART AnteRoom has been engineered to integrate smoothly into your existing infrastructure and ventilation systems. This level of compatibility means it's not just an addition to your infrastructure but a core part of your facility's approach to health and safety.
5. User-friendly Operation
In the demanding world of healthcare, there's no time for cumbersome systems. The HEPACART AnteRoom boasts a user-centric design. With intuitive controls and built-in safety mechanisms, your team can easily operate it with minimal fuss.
6. Compliance with Regulatory Standards
Every element of the HEPACART Mobile AnteRoom has been meticulously crafted to comply with even the strictest medical standards and guidelines. This compliance ensures that your facility is safe for patients and staff.
Best Practices To Safeguard Your Facility
Utilize Anterooms During Construction
The anteroom would be placed between a common area of the facility and the specific construction or renovation site, allowing your team to shut out any harmful particles inside the enclosed area. This is incredibly helpful in limiting the spread of HAIs between construction areas and patients with a reduced immune system. Looking for a higher level of air quality? Consider pairing your anteroom with a negative air machine to better control the particulate matter flow from one room into another, or filter them out almost entirely with a certified HEPA filtration system.
Perform Routine Maintenance with Anterooms
Similarly to construction projects, maintenance projects can benefit from an anteroom to limit debris spread. By creating a safe passage for workers to move between maintenance areas and patient zones, anterooms significantly reduce the risk of contamination and minimize cleaning time afterward. Even better, anterooms are built with the highest levels of flexibility and can move from one project to another just as quickly as your maintenance team can.
Deploy Anterooms for High-risk Patient Isolation
When set up correctly, an isolation anteroom can operate as a Class V infection control area, as per the Infection Control Risk Assessment Matrix. This helps to ensure ICRA-compliant patient and staff safety levels when infectious diseases pose an increased risk. In addition, the added flexibility of quick setup and teardown makes certain that your facility can have as many or as few patient isolation rooms as needed on a moment's notice.
Empowering Your Facility Safely and Efficiently
No matter what kind of protection your facility needs — infection control or dust containment for a construction project — an anteroom may be the solution you've been looking for. As a healthcare facility manager, only you can decide if investing in an anteroom aligns with your facility's needs. With their proven effectiveness and cost-efficiency, there's never been a better time to explore an isolation room's possibilities and make an informed decision about incorporating anterooms into your facility. The health and safety of your facility lie in your hands. Equip your team with the top isolation rooms on the market and prepare them for maximum infection control.
Maximize Healthcare Safety With Anterooms
Anterooms are revolutionizing healthcare facilities, providing a reliable barrier to cleaner, safer air for the entire facility. Their quick and easy deployment and safety compliance make them invaluable in maintaining a safe healthcare environment. By implementing a HEPACART AnteRoom, you're investing in a future of improved safety and efficiency for your healthcare facility.
Take the first step towards revolutionizing your healthcare facility today. For more details on our AnteRooms, download our pricing guide below.