Infection Control, Dust Containment, STARC® Dust Containment Wall Barriers
4 Ways the STARC LiteBarrier Helps with Infection Control & Dust Containment
Posted by
HEPACART
on Nov 5 2019 04:30 PM
The STARC LiteBarrier, a reusable containment system, makes life easier for health facility managers and infection control directors.
In our September post, Eliminate Construction Dust Health Hazards with Customizable Wall Barriers, we briefly discussed the STARC® LiteBarrier™ in the context of a variety of dust containment methods, but did not describe it fully.
In this post we'll examine how construction managers, facility managers, and infection control directors can apply this versatile, reusable tool to reduce cost and waste, comply with safety standards, employ worker hours more efficiently, and improve patient outcomes, all while providing a more pleasant working environment for patients, visitors, and staff.
1. They're easy to use
It is axiomatic that a workplace tool, procedure, or system that's convenient will be used more frequently than one that's perceived as inefficient or inconvenient.
So how does a reusable system like the STARC LiteBarrier make life easier for all concerned? Let's say you have the ICRA Infection Control Risk Assessment Matrix of Precautions for Construction & Renovation practically memorized, but you pull a worn copy from your pocket anyway.
Glancing over it, you see you're going to need Class IV dust control precautions: HVAC isolation, negative air pressure with HEPA filtration, and thorough sealing of the work area, among other things.
You wonder if not having to start off putting up sheet plastic before building sheetrock or gypsum board walls would be a giant step toward simplifying your life. You've heard of reusable barrier walls with lightweight sections that drop together quickly and seal against walls, ceilings, and floors.
For this particular project, you decide that a high degree of noise attenuation is unnecessary due to its juxtaposition to an open lobby rather than patient rooms. Seeing the benefit of speed and low cost of erecting lightweight wall sections, you opt for the STARC LiteBarrier.
LiteBarrier was developed because STARC realized that not all customers needed to control sound as well as the STARC® RealWall™ system does, but still wanted a sturdy, attractive barrier wall meeting ICRA Class III and IV requirements while carrying an ASTM E84 Class A rating for fire and smoke resistance.
A work crew can put up 100 feet of STARC LiteBarrier or RealWall in an hour, providing a wall that appears to be a permanent part of the facility. When the project is done, a worker rolls up the cart, loads it up with wall sections, and takes them to storage — or the next job.
2. They're highly adaptable
While the minimal waste and simplicity of reusable dust containment walls sounds great, how do they work in the real world of uneven floors, crooked ceilings, and walls festooned with handrails and diverse inconvenient protuberances?
Take a look at this range of accessories to get a better feel for the system's adaptability:
Wall interface
Filler panel kit for custom width or to fit around handrails or other protrusions
STARC RealWall adapter (to connect to STARC's sound attenuating RealWall)
Polycarbonate adapter (to connect to competitors' lightweight panels)
Flexible corner for 15-90° angles
T intersection to allow 90° mating of panels
Floor panel brace where no ceiling attachment
Panel cart
If you have another lightweight barrier system but are looking to upgrade to something stronger than polycarbonate, this one can connect to it. Five different panel widths of 12", 18", 24", 36", and 48" aid in building a precisely fitting wall. Panels telescope vertically from 6'-10" to 10'-3 and have top and bottom gaskets that provide an airtight seal.
Hinged doors, 42" or 54" wide, can swing left or right, and inward or outward, and come with adjustable thresholds to adapt to non-level floors. Negative air panels with standard 12" duct collars, integrated pressure ports, and built-in pressure ports let you control room air pressure. A T-slot connection system accommodates brackets, anchors and braces, and ceiling grid options abound.
In short, STARC designed their system to handle real-world construction projects.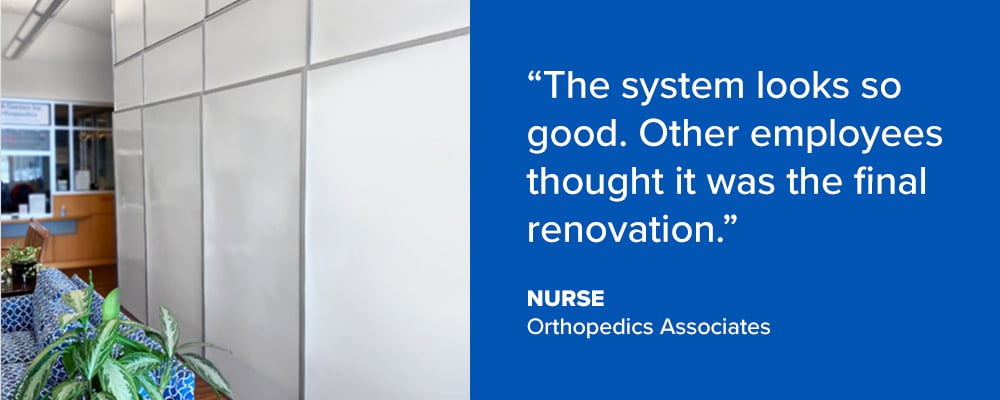 3. They look great
The finished appearance of STARC LiteBarrier partitions comes from anodized aluminum frames bonded to sturdy, fiberglass-reinforced polymer panels. Doors can be equipped with ANSI Grade 3 locks and be equipped with closers on the construction side, and the result is a permanent-looking wall suitable for use in high-traffic areas. The resulting clean look and lack of temporary-looking cues such as plastic sheeting or plywood panels creates an aesthetic difference that can have tangible effects on the patient experience.
The U.S. Department of Health & Human Services Agency for Healthcare Research and Quality created the CAPHS program in 1995 to advance understanding of patient experience with health care. Surveys by the agency suggest that a cleaner-appearing environment raises patients' overall assessment of their care, which can directly affect a hospital's bottom line because the surveys are used in public ratings that can affect, for example, the awarding of contracts by Medicare and health plan providers.
4. They last for years
Reusable over hundreds of jobs, the panels and doors of a temporary containment system such as STARC LiteBarrier can provide a return on investment after just a few jobs, when compared to the costs of building — and then demolishing — traditional drywall. Construction managers also see a competitive advantage in providing a clean appearance, which their clients like.
Weighing about half as much as the foam-core STARC RealWall, and costing about 40% less, STARC LiteBarrier fiberglass-reinforced polymer panels are proven to be more durable than polycarbonate panels, with superior impact, dent and scratch resistance. These premium walls provide years of service without maintenance, and can easily be disinfected with standard cleaners.
The STARC LiteBarrier is a trusted containment solution
Sustainability, better performance, lower cost in the long run, and better patient outcomes make a compelling case for using a modern dust containment system instead of the old, wasteful and inefficient methods involving plastic sheeting and drywall. We believe STARC Systems has the best temporary containment solutions available, which is why we have them in the HEPACART product lineup. We encourage you to download the STARC LiteBarrier catalog and learn more.
Resources