4 Best Practices for Preventing Healthcare Associated Infections
by HEPACART on Mar 11, 2021
Hand hygiene, respiratory hygiene, PPE, and environmental hygiene are critical in preventing HAIs.
When it comes to patient safety and healthcare-associated infections, the Centers for Disease Control and Prevention HAI data page begins hopefully, but ends with the same depressing odds for hospital patients that we've seen for years:
"Although significant progress has been made in preventing some healthcare-associated infection types, there is much more work to be done. On any given day, about one in 31 hospital patients has at least one healthcare-associated infection."
In 2015, that translated to 687,000 HAIs, with more than 10% of patients dying while hospitalized. In 2020, 1 out of every 25 hospitalized patients was affected by an HAI. This progression means that things are getting worse, not better. The odds of picking up one or more HAI are too high — and any death by HAI is one too many.
For these reasons and more, it's critical for Infection Control Nurses and others in similar positions to have clear HIA prevention protocol and staff trained to follow it precisely.
Though we usually focus on airborne infection, in this article, we'll broaden the topic to include some other sources of HAIs and four ways to prevent them through healthcare training in best practices, starting with the all-time top priority, hand hygiene.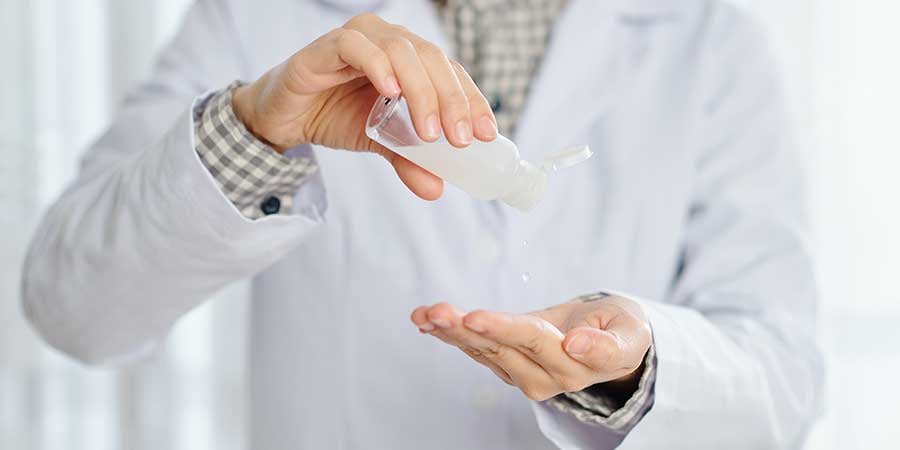 Hand Hygiene
Right off the bat, you can get a great visual from this icky video by Toronto General Hospital. It's surprisingly helpful to watch, probably because our primitive brains just aren't wired to react to the invisible. With images of tenacious green germ goo now echoing in your visual cortex, you'll be ready to tackle the number-one villain in the generation of HAIs: inadequate hand hygiene. Who are these villains spreading infection via their hands, anyway? People who should know better, the vast majority decent, caring healthcare professionals. But still. Germs don't care that your heart's in the right place if your hands aren't.
This 2002 CDC study listed many self-reported reasons why hand-washing is not done frequently enough:
Hand-washing agents cause irritation and dryness
Sinks are inconveniently located/shortage of sinks
Lack of soap and paper towels
Often too busy/insufficient time
Understaffing/overcrowding
Patient needs take priority
Hand hygiene interferes with healthcare worker relationships with patients
Low risk of acquiring infection from patients
Wearing of gloves/beliefs that glove use obviates the need for hand hygiene
Lack of knowledge of guidelines/protocols
Not thinking about it/forgetfulness
No role model from colleagues or superiors
Skepticism regarding the value of hand hygiene
Disagreement with the recommendations
And it is hardly as if knowledge of the importance of hand hygiene is something new. Check out this story from a book for nurses by Amy S. Collins of the CDC (boldface ours):
One nurse... found the resolve to make significant strides within the patient ward dealing with chronically overwhelming situations. She was administratively responsible for directing and addressing the challenges of all patients' chronic wound infections, ongoing cross-contamination, lack of needed medical supplies and equipment, severe understaffing, working extra shifts, and still finding time to provide care and comfort to patients. By her personal efforts to improve wound care, aseptic practices, and hand hygiene among all nursing and medical staff, mortality dropped in a dramatic decline from 33 percent to 2 percent within a 9-month period.
These sustained and dedicated efforts to reduce patient infections and improve patient care in light of overwhelming adversity set a standard of practice for all nurses to follow. That nurse was Florence Nightingale, defining the art of nursing in the 1850s.
Respiratory Hygiene
Also referred to as cough etiquette, respiratory hygiene is a set of infection prevention measures to limit transmission of pathogens in airborne droplets. In the age of COVID-19, we all have been schooled in the importance of wearing masks, so it's not necessary to belabor their importance here. Prior to the pandemic, most Americans other than those in healthcare were blissfully unaware of the need to protect their fellow humans in this way.
But thanks to the widespread adoption of mask-wearing and social distancing measures in 2020, influenza cases in the US, Australia, Chile, and South Africa have hit historically low levels. In this context, pre-pandemic CDC advice to post signs advising patients to cough into their elbow seems rather quaint, like those old driver-education booklets explaining how to signal a turn using your arm.
Still, there are other steps you can take to improve respiratory hygiene:
Provide tissues and hands-free waste receptacles in waiting rooms
Conveniently locate hand sanitizer stations
Space waiting area seats three or more feet apart if possible

PPE
It's essential to train and then track observance of protocols for properly putting on and disposing of PPE. This 3-page CDC document covers the correct sequence for putting on and safely removing gowns, masks, face shields, and gloves. It should always be emphasized that donning gloves does not obviate the need for hand-washing and that hands should be washed immediately after disposal of gloves and other PPE.
Environmental hygiene
We've covered some aspects of how to limit the most important and frequent mode of transmission, which is contact transmission. Contaminated surfaces continue to be a primary vector for patient-to-healthcare workers and healthcare worker-to-patient transmission (hence emphasizing hand-washing).
However, many other things must be considered when managing environmental hygiene:
HVAC upgrades — airflow, better, filtration, temperature, humidity
Maintenance and construction — dust containment equipment
Localized airborne pathogen control — room air purifiers
Maintaining, testing, and disinfecting water supplies
Cleaning noncritical items such as walls and floors
Laundering textiles
Cleaning PPE
At HEPACART®, our area of specialty is keeping patients, staff, and visitors safe by keeping the air free of pathogens. In other words, environmental hygiene is one of our primary missions. We first started doing this by providing dust containment carts, then barrier walls and anterooms, to keep construction dust out of patient areas. Today we also offer supplemental air purification equipment such as HEPAFORCE® AIR Negative Air Machines and Scrubbers and HEPAFORCE® GermBuster Room Air Purifiers that feature HEPA filters and far-UVC light for pathogen destruction. Adding equipment like this to your HAI arsenal is not only effective but invaluable.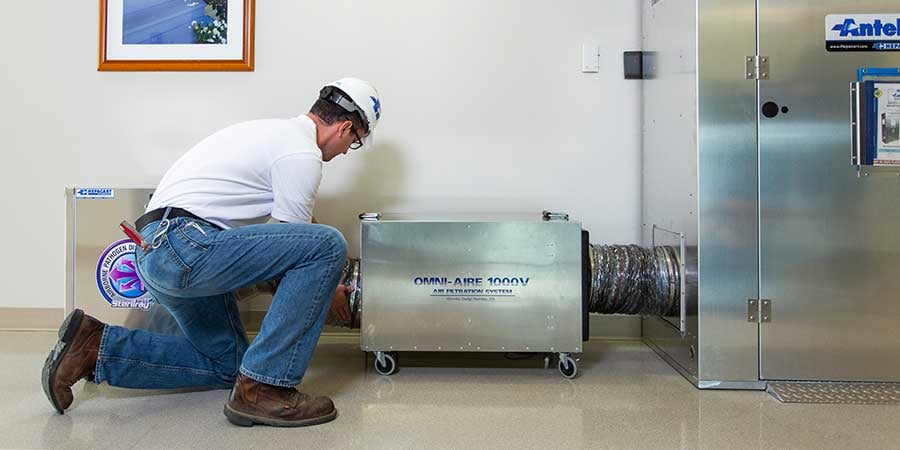 Conclusion
In this post, we've covered some — but by no means all — best practices for controlling healthcare-associated infections. Any infection control nurse will recognize that things like injection practices, infection via catheters, patient placement criteria, and antibiotic stewardship cause a large proportion of HAIs and must be addressed as part of an overall plan. But hand hygiene, respiratory hygiene, PPE, and environmental hygiene are also hugely important in preventing HAIs.
For more on the topic, read A Practical Guide To Infection Control For Healthcare Facilities, and see further resources below.
Resources