Benefits of Using Cabling Access Points in Healthcare Facilities
Posted by
HEPACART
on Jul 8 2020 06:00 PM
CAP is a pull-through device that protects wires and cables while keeping ceiling dust contained.
Regular readers of the HEPACART® blog know we are dedicated to protecting the health of vulnerable patients by reducing their exposure to hospital construction dust.
We started with mobile dust containment carts (thus the word "cart" in our name) that eliminated the need to put up and tear down time-consuming temporary dust enclosures when simply removing a ceiling tile for maintenance. But we soon expanded our product line to enable walling off construction zones, creating negative pressure rooms and disinfecting indoor air in healthcare settings.
While thinking big, we also went the other direction and considered the simplest way to control dust while feeding cable into a ceiling. It may seem like a little thing, but you don't have to be adding a new wing or tearing down walls to create a dust hazard. Even so much as lifting a ceiling tile to do a cable run can dislodge dust particles containing mold spores and other pathogens not normally harmful to healthy people, but potentially deadly to immunocompromised patients.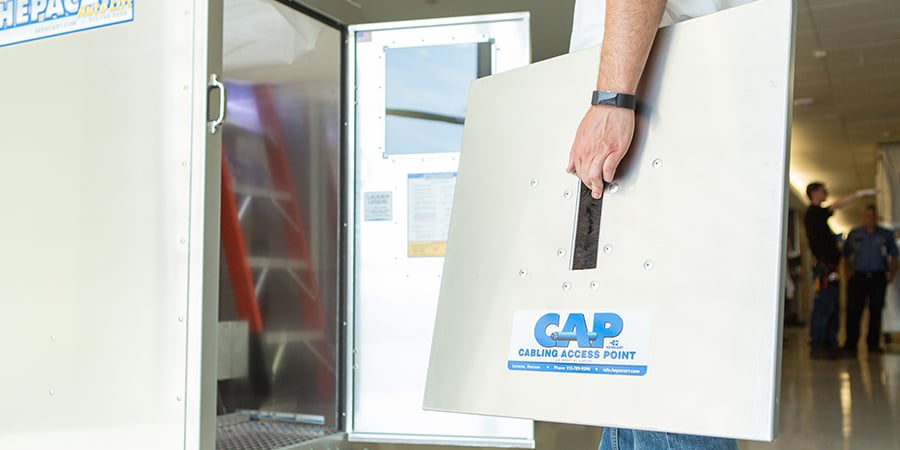 Because two top priorities for electrical contractors and healthcare facility managers in healthcare facilities are patient safety and efficient use of worker hours, any productivity tool that simultaneously advances both goals would seem to be worth a look. That tool, the Cabling Access Point (we call it CAP for short), is the subject of this post. It's a pull-through device that protects wires and cables while keeping dust from escaping from above the ceiling.
The Importance of Wiring
Cabling is the backbone of IT networks, and yet by one estimate, as much as 50% of healthcare network problems are related to inadequate cabling infrastructure.

Between a growing and aging population, increased regulation, and huge increases in data volume generated by advancing medical technology, healthcare networks are being asked to do more all the time. With many critical applications related to a hospital's core business depending on the network, administrators and facility managers are faced with no choice but to upgrade.
This paragraph from C2 Technologies Hospital Networking Guide describes the complexities involved:
"Many hospitals use a separate network infrastructure for every department as a way to provide security and performance. Separate networks may exist for biomedical devices such as infusion pumps and meters. There may be one for security supporting video cameras and secure access to the buildings. Another one may exist for facilities which would include laundry, kitchens and heating, ventilation, and air conditioning systems (HVAC). Plus, another for patient entertainment, such as TV and Internet access, with yet one more for clinicians and their communication and computing systems. Each network infrastructure includes its own networking and management equipment, all connected to servers, gateways, and other platforms."
It's clear that demand for data connectivity in healthcare will only continue to grow. As a result, the sight of technicians installing new wires will become commonplace as network expansion projects become increasingly necessary.
How to Safely Do Wire Pulling
Pulling wire is how electricians get wires from point A to point B in a building, and it's an essential task in the trade. Pulling electrical power cables through steel conduit using special lubricants and power pulling equipment is a distinctly different job than stringing optical fiber data cables above a drop ceiling, but the two do have a few things in common.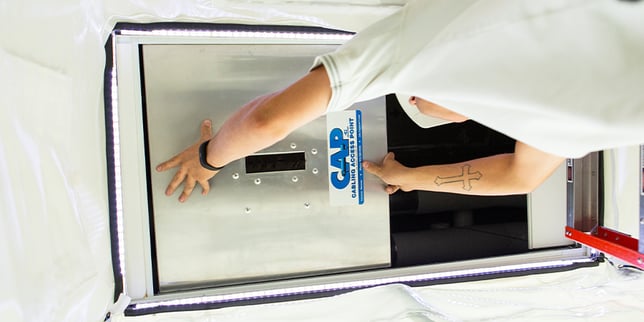 Here are some basic steps:
Identify cable type and specifications.

Establish the cable route.
Set up hardware necessary for cable support.
Position cable reels at the entry point.
Set up cable-protection funnels or rollers at entry, such as a ceiling-mount access point.
With technicians in position, start the pull.
Don't exceed the pull strength of the cable, which could cause internal breaks.
If not running cable through conduit, make sure it is properly supported.
Terminate and label wires.
The most important items for avoiding damage to the wire are numbers 5 and 7 above. Because continuity of a cable is so important, you want to make sure that you won't be putting too much tension on the conductors.
According to Chapter 8 of the National Electrical Code, low-voltage data communication cables located above a drop ceiling may be enclosed in a plastic tube called a communications raceway, but that's not required. However, whether enclosed or not, they must hang from independent support wires, straps, or hangers, and not be supported by the ceiling-support wires or the ceiling grid.
Wire Pulling Tricks & Tools
Every electrician seems to have favorite techniques and tricks of the trade, like throwing a tennis ball to the wire's destination with string attached or bending PVC conduit with a hairdryer. One creative, but infrequently used technique to get that string from point A to point B in a drop ceiling is to tow it with an R/C car equipped with headlights and a camera. However entertaining the idea, there are more efficient tools, at least for straight-line pulls, such as this gun that can launch a pull line up to 120 feet.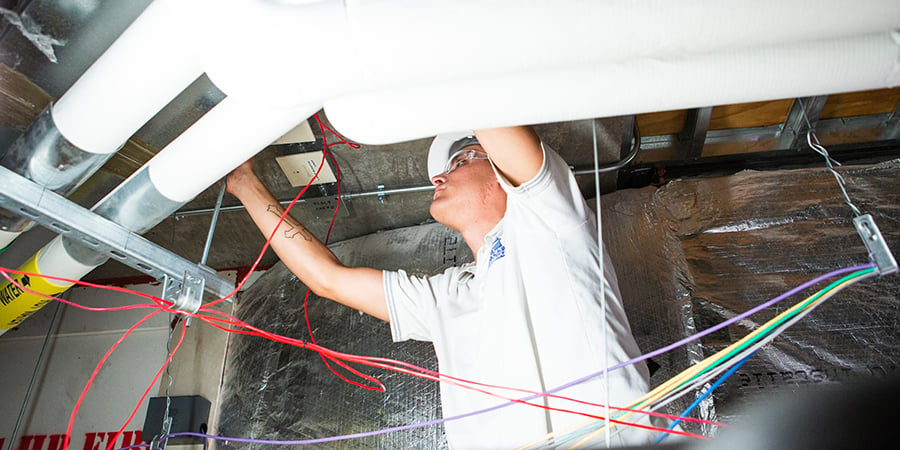 More mundane wire pulling tools include fish tapes, fiberglass rods, tuggers, noodlers, and various types of rollers. A widely available plastic entry-point device cable-pull protector that clips to the corner of a ceiling tile opening does the trick in non-healthcare settings where controlling environmental dust is not an issue.
However, electrical contractors working in hospitals, clinics, clean rooms, and other dust-averse environments have found that conventional tools don't address the need to pull cable cleanly into a ceiling while protecting occupants from exposure to dust.
Choosing CAP — HEPACART'S Cable Access Point
HEPACART's CAP (cable access point) is several products with variations for different cable sizes and ceiling openings. For example, model # CAP-L has a longer opening and larger rollers for optical cables requiring more pull radius. CAP is a lightweight tool: the standard 24" x 24" model weighs only 8 pounds.
CAP keeps dust from traveling into the hallway beneath an open ceiling tile by:
Plugging the opening. It's the size of a standard lift-grid tile, 24" x 24". With an extension, it can fill a 24" x 48" opening, and it also comes in metric sizes for overseas projects.

Protecting the cables with rollers surrounding the opening, decreasing friction.
Preventing dust, dirt, and debris from the opening with horsehair bristles that keep the opening to an absolute minimum.
Learn More About the HEPACART CAP and how it can save your facility or healthcare customer many labor hours by making wire pulls smooth, clean, and efficient.