5 Dust Containment Tools to Keep Senior Residents & Staff Healthy
by HEPACART on Mar 25, 2021 8:00:00 AM
What steps do you take to protect your senior living residents and staff from dust-related illnesses?
Facilities management has been going well for you lately. You run a tight ship, so nobody's getting away with coat-wire conduit hangers, shoddy wiring, or rogue firewall penetrations in the plenum spaces over your head.
While you're justifiably proud of your rock-solid above-ceiling permitting process, you're equally pleased with a safety inspection compliance rate that hovers around 99.44%. You and the CEO are as tight as Rocky and Bullwinkle, and your breath smells like gardenias. What could possibly go wrong?
Well, there's always something to worry about, isn't there? Here's something: dust containment. Before one ceiling tile is lifted or sledgehammer meets drywall, what steps do you take to protect residents and staff from dust-related illness?
We've known for a while that dust is a very real health hazard, especially for the ill and elderly. The dust lying atop any given ceiling tile is harmless, as long as it stays put. However, when released into the air, it can spread mold spores and other pathogens that endanger those with weakened immune systems.
So, what's a formerly relaxed and serene facilities manager to do? You know that dust escaping from construction and remodeling is bad news, so you must find a way to contain it. To start, look to the widely accepted protocols for infection control risk assessment and refer to the ICRA matrix. These will guide you to prepare for ICRA Class IV protection, which contains measures to keep your most vulnerable residents safe. As a result, you may need to buy equipment, establish protocols, and train workers on the actions necessary to keep all that dust where it belongs.
How do you find the most cost-efficient equipment to help you provide maximum safety while taking into account such factors as reusability, sustainability, and labor costs? Perhaps one place to start is a blog post like this one, in which we'll describe some equipment that can help you meet all of those requirements with a minimum of fuss.
What these products have in common is their ability to speed up jobs, reduce labor, contain dust and debris, and meet safety standards. We'll start with three products that allow safe access to ceilings then we'll highlight a couple of other proven dust containment tools.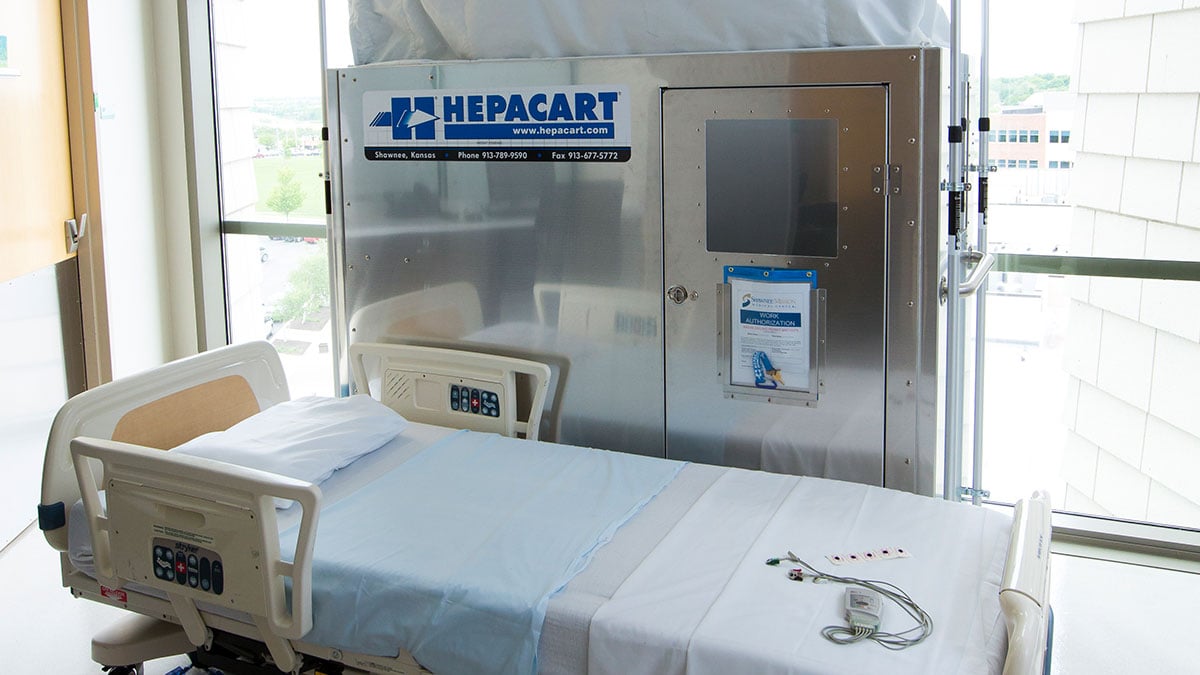 HEPACART® Dust Containment Cart
Our HEPACART dust containment cart — the product after which we named the company — rolls right to wherever you need it to be. Once you've extended the fireproof curtain to the ceiling, it provides a seal around the tile to be removed, with no damage to the surrounding tiles. Turn on the included negative air machine with HEPA filtration, and send the toughest guy on the crew, Demolition Daryl, through the door and up the ladder with his massive cordless hammer drill (corded would be OK, too, since there are power outlets inside the cart, along with LED lighting.)
As Daryl works, clouds of concrete dust and other debris showers down around him from the opening but are contained safely. Later, the cart can be vacuumed out after it has been moved to a safe location. The cart has done its job, allowing 95% of Daryl's time to be spent on the job, wasting no time erecting — then removing — a temporary plastic tent enclosure.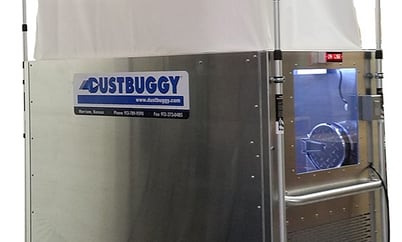 DUSTBUGGY® Dust Containment Cart
Our DUSTBUGGY® dust containment cart is for you if you don't need the negative air machine and HEPA filtration of the HEPACART. That saves money while still providing the other benefits, like time savings, reusability, and elimination of waste materials. As with HEPACART, you can roll it in and set it up in two minutes, and it provides tool storage, lighting, power outlets, and a safe base for a ladder.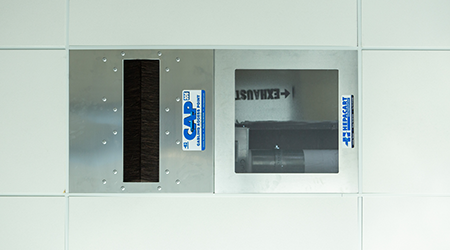 Cabling Access Point (CAP)
Cabling Access Point (CAP) is an ingenious device that mounts in place of any lift-out ceiling tile to allow long cable pulls while safely sealing off the plenum space from the room below. To pull cable into the ceiling without the CAP productivity tool, you'd have to station a second dust containment cart beneath the point of entry or erect a temporary enclosure around the open ceiling tile.
The CAP productivity tool comes in many different sizes and configurations. For example, CAP Fiber has a longer opening and bigger rollers to provide an increased pull radius for sensitive fiber optic cables.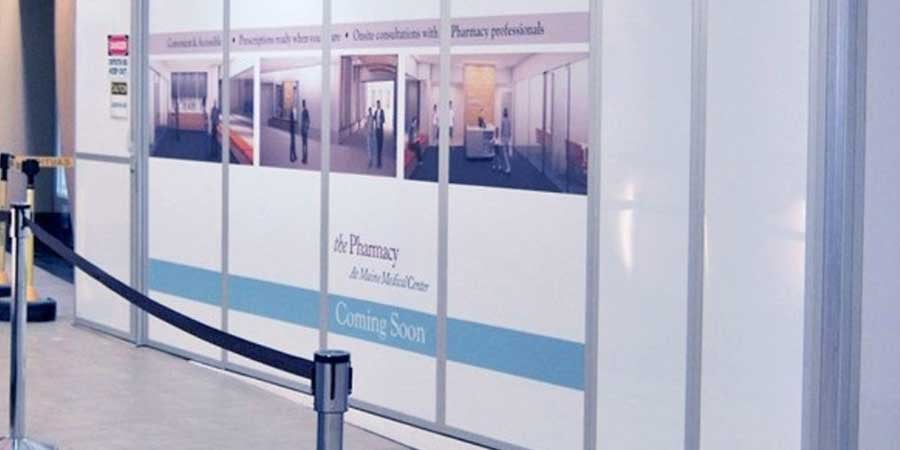 STARC® Systems Wall Barriers
STARC® Systems Wall Barriers are lightweight, reusable wall sections that seal off major openings to allow normal use of areas adjacent to construction projects. RealWall provides the appearance and stability of a permanent wall, with a urethane foam core that aids noise reduction and adds thermal insulation. LiteBarrier is a lightweight version of that system without the foam core. Both dust containment systems feature panels with doors, windows, attachment points for negative air machines, rapid installation and teardown, and the ability to connect interchangeably.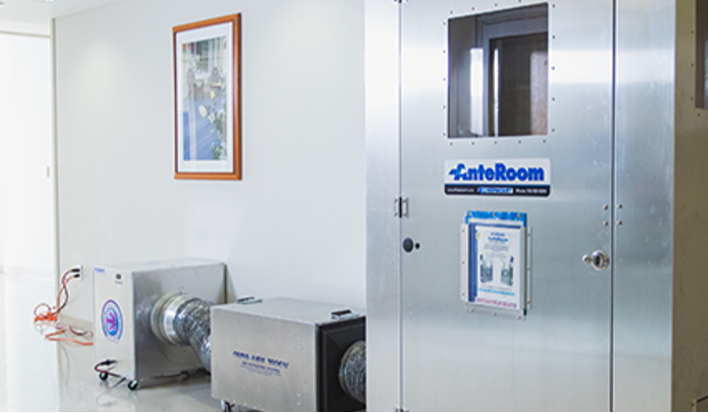 AnteRoom
In healthcare, an anteroom is a small room between a contaminated area and a treatment room. HEPACART was an early pioneer in the concept, with our AnteRoom winning Most Sustainable, Most Innovative, and Best in Show honors at the annual 2011 Healthcare Symposium and Exhibition.
With the rise of COVID-19, the need for AnteRooms expanded greatly. Cited in a 2020 paper published under the Public Health Emergency COVID-19 Initiative, anterooms adjacent to airborne-infection isolation rooms are needed both to maintain pressure differentials and to provide an area for changing and disinfecting PPE and other medical equipment.
Equipped with external negative air machine adapters on either side of the door, the HEPACART® AnteRoom is portable, washable, and quick to install.
Conclusion
As you plan for and oversee renovations and maintenance throughout your senior living facility, always keep resident and staff top of mind. Most building-related work results in air pollution if not mitigated. Whether you're a director of facilities or manage healthcare construction, you can purchase any of these products to help solve safety and productivity challenges.