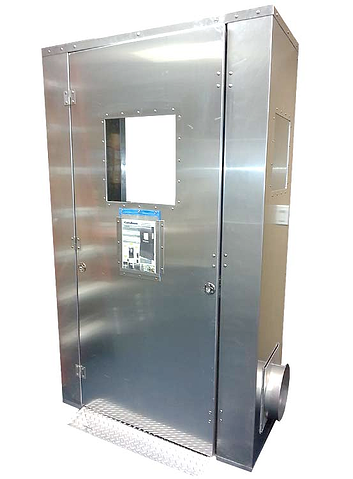 AnteRoom Products
The HEPACART™ AnteRoom is an external aluminum passageway that serves as an entryway into any larger room undergoing maintenance, renovation or construction. The HEPACART™ AnteRoom provides total room isolation, a containment measure that mitigates patient risk from work dust and related contaminants. With external negative air machine adapters on either side of the enclosure, the HEPACART™ AnteRoom provides air filtration, dust collection and infection control. On most Infection Control matrices for construction or renovation in hospitals, the specifications for the HEPACART™ AnteRoom meet all the requirements of Class IV Infection Control precautionary measures, where contractors or maintenance workers must construct an anteroom that allows for adequate isolation of the work environment and negative airflow.
The AnteRoom comes in two models:
HCAR36
Equipped with floor levelers and stabilizers that allow for a secure and steady contact with the door frame.
Includes 3 windows for visibility when exiting and can be disassembled for flat storage
Download the AnteRoom HCAR36 data sheet below.
HCAR48
Magnetically seals to virtually any size door frame
An external Negative Air Machine can be attached to either side of the AnteRoom to facilitate traffic and accommodate space needed
Download the AnteRoom CAR48 data sheet below.